include_once("header.php3"); ?>
Welcome to StudentsReview!
Uncensored college reviews -- Informative, Awesome & Truthful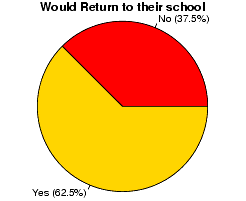 37% of students would not choose their school again.

A Sample College Review
Brandeis University
"Brandeis, it seems, is where you go when you were rejected from your ivy league school and are still bitter. There is zero social life, and the "underground" frats and sororities are more present than you think. Also, it comes of no surprise that our dorms are voted in the top ten of "Dorms like Dungeons." The only ok thing about Brandeis is that there are a lot of internati... " more...
Twenty Most Reviewed Universities

Pleased
University Name
City, State
Total
Pensacola Christian College
Pensacola, FL
2613
Bob Jones University
Greenville, SC
822
New York University
New York, NY
546
University of Michigan - Ann Arbor
Ann Arbor, MI
539
Rochester Institute of Technology
Rochester, NY
525
Boston University
Boston, MA
514
University of Houston
Houston, TX
480
Pennsylvania State University
University Park, PA
434
Georgia Institute of Technology
Atlanta, GA
434
George Washington University
Washington, DC
433
University of Illinois Urbana - Champaign
Champaign, IL
419
Savannah College of Art and Design
Savannah, GA
413
University of Southern California
Los Angeles, CA
411
Texas A & M University - College Station
College Station, TX
383
Iona College
New Rochelle, NY
378
Liberty University
Lynchburg, VA
373
Kettering University
Flint, MI
372
Cornell University
Ithaca, NY
371
Michigan State University
East Lansing, MI
370
State University of New York Binghamton
Vestal, NY
357
Fordham University
Bronx, NY
354
James Madison University
Harrisonburg, VA
352
University of California - Berkeley
Berkeley, CA
334
University of Maryland - College Park
College Park, MD
333
University of Wisconsin - Madison
Madison, WI
322
Totals

(105171 : 25055 : 95060)

225286 Total Reviews; 3359 Total Universities Reviewed