include_once("header.php3"); ?>
Welcome to StudentsReview!
Uncensored college reviews -- Informative, Awesome & Truthful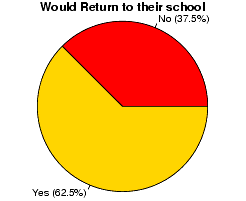 37% of students would not choose their school again.

A Sample College Review
Case Western Reserve University
"Case is great school when it comes to preparing you for the real world. They go out of their way to help you find jobs after graduation and internships/Co-Ops while you are an undergrad. The cost of education is a bargain as long as you take advantage of the various merit based scholarships that the university offers. However, the sticker price of the university is WAY TO HIGH ... " more...
Twenty Most Reviewed Universities

Pleased
University Name
City, State
Total
Pensacola Christian College
Pensacola, FL
2649
Bob Jones University
Greenville, SC
831
New York University
New York, NY
565
University of Michigan - Ann Arbor
Ann Arbor, MI
543
Rochester Institute of Technology
Rochester, NY
537
Boston University
Boston, MA
524
University of Houston
Houston, TX
496
George Washington University
Washington, DC
440
Georgia Institute of Technology
Atlanta, GA
440
Pennsylvania State University
University Park, PA
438
University of Illinois Urbana - Champaign
Champaign, IL
435
University of Southern California
Los Angeles, CA
430
Savannah College of Art and Design
Savannah, GA
423
Brown University
Providence, RI
397
Iona College
New Rochelle, NY
395
Texas A & M University - College Station
College Station, TX
390
Michigan State University
East Lansing, MI
390
Liberty University
Lynchburg, VA
383
Cornell University
Ithaca, NY
380
Kettering University
Flint, MI
376
University of California - Berkeley
Berkeley, CA
374
State University of New York Binghamton
Vestal, NY
366
Fordham University
Bronx, NY
365
James Madison University
Harrisonburg, VA
358
Drexel University
Philadelphia, PA
343
Totals

(111663 : 25885 : 97769)

235317 Total Reviews; 3359 Total Universities Reviewed