include_once("header.php3"); ?>
Welcome to StudentsReview!
Uncensored college reviews -- Informative, Awesome & Truthful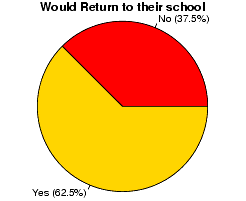 37% of students would not choose their school again.

A Sample College Review
Villanova University
"both good things and bad things. good - if you are a sunny person with no problems and lots of money, villanova is perfect for you. people are friendly an there is a lot of ommunity service and campus programs to get into. bad - villanova is a completely innacurate version of the real world. you are challenge with lots of work, but it is very superficial. very few classes actua... " more...
Twenty Most Reviewed Universities

Pleased
University Name
City, State
Total
Pensacola Christian College
Pensacola, FL
2618
Bob Jones University
Greenville, SC
824
New York University
New York, NY
547
University of Michigan - Ann Arbor
Ann Arbor, MI
539
Rochester Institute of Technology
Rochester, NY
526
Boston University
Boston, MA
517
University of Houston
Houston, TX
486
Pennsylvania State University
University Park, PA
437
Georgia Institute of Technology
Atlanta, GA
436
George Washington University
Washington, DC
434
University of Illinois Urbana - Champaign
Champaign, IL
419
Savannah College of Art and Design
Savannah, GA
413
University of Southern California
Los Angeles, CA
413
Iona College
New Rochelle, NY
389
Texas A & M University - College Station
College Station, TX
386
Liberty University
Lynchburg, VA
376
Michigan State University
East Lansing, MI
375
Kettering University
Flint, MI
373
Cornell University
Ithaca, NY
373
University of California - Berkeley
Berkeley, CA
369
State University of New York Binghamton
Vestal, NY
357
Fordham University
Bronx, NY
357
James Madison University
Harrisonburg, VA
353
University of Maryland - College Park
College Park, MD
333
Drexel University
Philadelphia, PA
323
Totals

(106386 : 25187 : 95276)

226849 Total Reviews; 3359 Total Universities Reviewed