include_once("header.php3"); ?>
Welcome to StudentsReview!
Uncensored college reviews -- Informative, Awesome & Truthful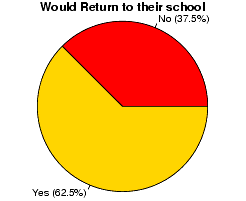 37% of students would not choose their school again.

A Sample College Review
FIDM Fashion Institute of Design & Merchandising Los Angeles
"Get a part-time or full-time job somehow related to your major while attending college. You are wasting your time and money on FIDM! Grants and scholarships have very little affect on your tuition therefore, you are stuck with outrageous loans. The career center is an absolute joke! The Cal State Universities are much better schools. Take my advice! You will be glad you d... " more...
Twenty Most Reviewed Universities

Pleased
University Name
City, State
Total
Pensacola Christian College
Pensacola, FL
2575
Bob Jones University
Greenville, SC
816
University of Michigan Ann Arbor
Ann Arbor, MI
538
New York University
New York, NY
535
Rochester Institute of Technology
Rochester, NY
521
Boston University
Boston, MA
496
University of Houston
Houston, TX
475
George Washington University
Washington, DC
429
Georgia Institute of Technology
Atlanta, GA
427
Pennsylvania State University
University Park, PA
425
University of Illinois Urbana Champaign
Champaign, IL
413
University of Southern California
Los Angeles, CA
410
Savannah College of Art and Design
Savannah, GA
403
Texas A & M University College Station
College Station, TX
377
Kettering University
Flint, MI
370
State University of New York Binghamton
Vestal, NY
369
Liberty University
Lynchburg, VA
367
Cornell University
Ithaca, NY
366
Michigan State University
East Lansing, MI
362
James Madison University
Harrisonburg, VA
344
Fordham University
Bronx, NY
339
University of California Berkeley
Berkeley, CA
325
University of Maryland College Park
College Park, MD
320
University of Wisconsin Madison
Madison, WI
317
Florida State University
Tallahassee, FL
307
Totals

(99982 : 11017 : 83571)

194570 Total Reviews; 3359 Total Universities Reviewed