include_once("header.php3"); ?>
Welcome to StudentsReview!
Uncensored college reviews -- Informative, Awesome & Truthful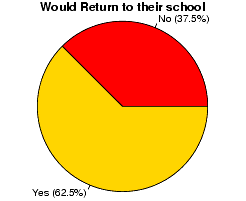 37% of students would not choose their school again.

A Sample College Review
University of North Carolina - Charlotte
"Excellent Chemistry department. Friendly TAs. Some professors are getting on in the years, but still a wealth of knowledge. Biology department however is awful. The worst TAs on the face of the earth. Self-absorbed students who look down there nose at you. If you think Pre-Med is for you, GO SOMEWHERE ELSE. Good for Pre-Pharmaceuticals however. Quality of other classes is avera... " more...
Twenty Most Reviewed Universities

Pleased
University Name
City, State
Total
Pensacola Christian College
Pensacola, FL
2616
Bob Jones University
Greenville, SC
824
New York University
New York, NY
547
University of Michigan - Ann Arbor
Ann Arbor, MI
539
Rochester Institute of Technology
Rochester, NY
526
Boston University
Boston, MA
515
University of Houston
Houston, TX
485
Pennsylvania State University
University Park, PA
436
Georgia Institute of Technology
Atlanta, GA
436
George Washington University
Washington, DC
433
University of Illinois Urbana - Champaign
Champaign, IL
419
Savannah College of Art and Design
Savannah, GA
413
University of Southern California
Los Angeles, CA
412
Iona College
New Rochelle, NY
389
Texas A & M University - College Station
College Station, TX
383
Liberty University
Lynchburg, VA
374
Michigan State University
East Lansing, MI
372
Kettering University
Flint, MI
372
Cornell University
Ithaca, NY
372
University of California - Berkeley
Berkeley, CA
360
State University of New York Binghamton
Vestal, NY
357
Fordham University
Bronx, NY
357
James Madison University
Harrisonburg, VA
353
University of Maryland - College Park
College Park, MD
333
Drexel University
Philadelphia, PA
323
Totals

(105698 : 25113 : 95154)

225965 Total Reviews; 3359 Total Universities Reviewed