include_once("header.php3"); ?>
Welcome to StudentsReview!
Uncensored college reviews -- Informative, Awesome & Truthful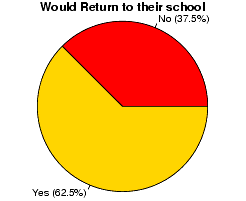 37% of students would not choose their school again.

A Sample College Review
Cabrini College
"I HATE Cabrini. GREATLY over priced, stupid students, the Lacrosse players are all wanna-be Duke players, the basketball team are all dirty negros, and herpes and swine flu were spread around the 'frat' houses.



Cabrini f*cking SUCKS. I transferred out after two years and now attend Saint Joe's.



" more...
Twenty Most Reviewed Universities

Pleased
University Name
City, State
Total
Pensacola Christian College
Pensacola, FL
2590
Bob Jones University
Greenville, SC
820
New York University
New York, NY
543
University of Michigan - Ann Arbor
Ann Arbor, MI
534
Rochester Institute of Technology
Rochester, NY
524
Boston University
Boston, MA
508
University of Houston
Houston, TX
477
Pennsylvania State University
University Park, PA
430
George Washington University
Washington, DC
427
Georgia Institute of Technology
Atlanta, GA
426
University of Illinois Urbana - Champaign
Champaign, IL
419
Savannah College of Art and Design
Savannah, GA
408
University of Southern California
Los Angeles, CA
408
Texas A & M University - College Station
College Station, TX
380
Kettering University
Flint, MI
371
Michigan State University
East Lansing, MI
369
Cornell University
Ithaca, NY
367
Liberty University
Lynchburg, VA
366
State University of New York Binghamton
Vestal, NY
357
Fordham University
Bronx, NY
348
James Madison University
Harrisonburg, VA
346
University of Maryland - College Park
College Park, MD
329
University of California - Berkeley
Berkeley, CA
328
University of Wisconsin - Madison
Madison, WI
320
Francis Marion University
Florence, SC
309
Totals

(102714 : 24736 : 94627)

222077 Total Reviews; 3359 Total Universities Reviewed