include_once("header.php3"); ?>
Welcome to StudentsReview!
Uncensored college reviews -- Informative, Awesome & Truthful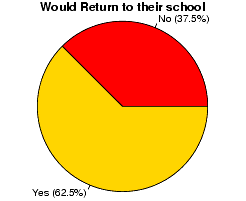 37% of students would not choose their school again.

A Sample College Review
Case Western Reserve University
"What happened last night on the campus (the shooting and hostage situation) could happen any day of the year. The school borders the worst part of town, and there are crazies wandering around mumbling to themselves as they walk by everyday—and that's usually the campus security guys! If you make it through here without something happening to you or your friends (a mugging, pu... " more...
Twenty Most Reviewed Universities

Pleased
University Name
City, State
Total
Pensacola Christian College
Pensacola, FL
2634
Bob Jones University
Greenville, SC
829
New York University
New York, NY
556
University of Michigan - Ann Arbor
Ann Arbor, MI
540
Rochester Institute of Technology
Rochester, NY
534
Boston University
Boston, MA
523
University of Houston
Houston, TX
492
Pennsylvania State University
University Park, PA
437
George Washington University
Washington, DC
436
Georgia Institute of Technology
Atlanta, GA
436
University of Illinois Urbana - Champaign
Champaign, IL
422
Savannah College of Art and Design
Savannah, GA
421
University of Southern California
Los Angeles, CA
413
Iona College
New Rochelle, NY
391
Texas A & M University - College Station
College Station, TX
390
Michigan State University
East Lansing, MI
387
Liberty University
Lynchburg, VA
380
Cornell University
Ithaca, NY
377
Kettering University
Flint, MI
375
University of California - Berkeley
Berkeley, CA
372
Fordham University
Bronx, NY
363
State University of New York Binghamton
Vestal, NY
361
James Madison University
Harrisonburg, VA
355
University of Maryland - College Park
College Park, MD
336
Drexel University
Philadelphia, PA
327
Totals

(108657 : 25505 : 97072)

231234 Total Reviews; 3359 Total Universities Reviewed