The University of Alabama
"There is one professor in particular who provided
Quite Bright
Computer Science
There is one professor in particular who provided a negative experience--Prof. Richard Borie. He was the only professor teaching certain major-required courses. He was unapproachable for help, a hard grader, gave really hard exams suitable more for graduate student-level work and was the reason I ended up with a lower than expected GPA. The Borie courses were combined grad/undergraduate courses, but the course work was not leveled. Everyone took the same tests and the curve was based on graduate and undergraduate performance. I felt the expectations for success were unrealistic. I was constantly struggling in Borie's class due to the lack of help or additional explanation when I asked for it. The department should look for a replacement for him.
Alumnus Male -- Class 2000
Preparedness: F Reputation: F
Rate this comment:
Useless (1) (2) (3) (4) (5) Helpful
"This place is awful, do not expect any
Other
This place is awful, do not expect any faculty or staff to help you with ANYTHING. The people here will hate you unless you are actively part of a fraternity or sorority. When signing up for classes they don't tell you that most classes are online. NOT worth the $40k+ that out of state students pay. Ive wanted to come here since I left the womb, Ive been here for one semester and I cant get out fast enough. The University covers up things like shooting threats and daily robberies. Do not make the mistake of coming here. P.S. the wifi is out every 10 minutes.
Male -- Class 2000
Rate this comment:
Useless (1) (2) (3) (4) (5) Helpful
"I am a freshman at the University of
Average
Communications
I am a freshman at the University of Alabama and I honestly do not like it at all. People here are very self-absorbed and rude. Most of the girls are complete brats who only care about going to parties EVERY NIGHT. If you don't dress "like them" with long T-shirts that cover your shorts, you will most likely be judged. Also if you are not wearing designer clothes/shoes/accessories, you're probably seen as "poor". If you are not from the Alabama or the South, I would highly recommend reconsidering this school. Especially if you are not planning on joining a Fraternity or Sorority.
One of my friends was rushing for a certain Sorority and when they walked in they had to take off their shoes and an active member of the sorority came around and checked to see who was wearing designer shoes and who wasn't...
They are complete brats who care only about themselves and their image. I wouldn't be surprised if the whole greek system flunks out.
The culture shock is tremendous. Everything in the "deep south" is different than any other state. I am from Chicago so the culture here is not something I like. I'll just say it is very different in every aspect, (how people dress, act, talk, carry themselves). It is just not something I like. There really is no "southern hospitality" on this campus. People down here call Chicago a "war zone" but in reality people from Chicago or anywhere in the Midwest are a heck of a lot nicer than anyone on this campus.
Lastly, there is absolutely nothing to do on this campus except party. Don't get me wrong I am a big partier but I don't want to go out every single night because it gets old really fast.. The Strip is super boring and quite scary at night. There are a lot of weirdos driving around it looking for drunk college girls coming out of the bars late at night.
1st Year Female -- Class 2018
Education Quality: A, Individual Value: F
Rate this comment:
Useless (1) (2) (3) (4) (5) Helpful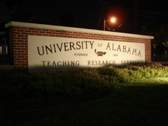 Similar Colleges by Safety