The University of Alabama
"Avoid this place like the plague.
Average
Telecommunications
Avoid this place like the plague. One of my biggest regrets in life. Love the campus and the communications program but the people here are some of the worst people on the planet. If your goal in life is to join a sorority of fraternity then this is the place for you but you probably won't graduate so don't bother spending mommy and daddy's money.
1st Year Female -- Class 2018
Education Quality: A+, Individual Value: F
Rate this comment:
Useless (1) (2) (3) (4) (5) Helpful
"If u want to
Quite Bright
Accounting
If u want to learn something really useful, this school is not your choice. If u just want to waste time here for some Greek life with the sothern farmer it is ur place.
2nd Year Male -- Class 2016
Campus Aesthetics: A, Scholastic Success: D
Rate this comment:
Useless (1) (2) (3) (4) (5) Helpful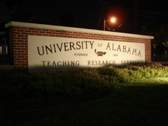 Similar Colleges by Safety