The University of Alabama
"The Engineering college at UA is not given
Quite Bright
Mechanical Engineering
The Engineering college at UA is not given the credit it deserves. I can only speak of the Mechanical Engineering department, but I get very offended when people call my school a sham. This is no second rate school. Most of the students I know here are indeed interested in pursuing a profession in engineering and have done as I have and worked in that profession while in school. The co op program at UA is wonderful. It costs more than some other schools, but it is well run and the job placement rate is fairly high. I have talked to students at other engineering schools in the state and they didn't know anything about their co op programs. Being a co op is possibly the most important part of one's education. I say this because it allows one to see what the actual working engineer does. One may find that he or she likes the profession chosen, or may find that working as an engineer is not for him or her. Also it may be that one wished to go into research and development, but found construction, or management more fulfilling. Our co op prgram here is highly advertised and I believe all engineering students know about it. Our professors here are second to none also. In the ME department we have professors from all over the country. We have a professor who got his undergrad at Yale, not to mention all the professors who have their doctorate degrees. Our ME professors have also been widely published. The quality of education here is wonderful and I reccomend this school to anyone. Don't put any stake in the claims of a "Party School" from Princeton's review. If you interview the percentage outside engineering who do party all the time and get away with no studying, then you will get that image. However, I know from personal experience and from viewing my peers, in the engineering school, you will study, or you will not pass.
3rd Year Female -- Class 2005
Faculty Accessibility: A+, University Resource Use: B
Rate this comment:
Useless (1) (2) (3) (4) (5) Helpful
"I came to this university because of its
Quite Bright
Accounting
I came to this university because of its outstanding business school. After three years, I have realized that this college is so much more than just an outstanding academic institution. Although academics is what attracted me to UA, the atmosphere on this campus is truly special. The students here know that they are a part of a great tradition of excellence that is aspired on every corner of this campus. I have met so many great people that will remain friends with for a lifetime. I would encourage any prospective student to visit this beautiful campus, take the campus tour, and meet some of the students and faculty.
3rd Year Male -- Class 2005
Education Quality: A+,
Rate this comment:
Useless (1) (2) (3) (4) (5) Helpful
"In my short time here, I am beginning
Super Brilliant
Aerospace Engineering
In my short time here, I am beginning to realize that this place will remain in my heart long after I've left these hallowed halls. From the students to the professors, one can tell that this place is special. I'm loving my experiences here, academically and socially. I'm very impressed with our new President and the professors I have come into contact with. I believe even better things are in the future for this campus. I suggest that any student, interested in attending the Unversity of Alabama, visit the campus. Take the "Bama Bound" tour and learn more about this great university. I am very proud to be a student here.
1st Year Female -- Class 2006
Education Quality: A+, Useful Schoolwork: A
Rate this comment:
Useless (1) (2) (3) (4) (5) Helpful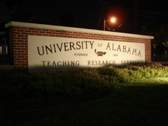 Similar Colleges by Safety