The University of Alabama
"I am an out
Quite Bright
Political Science
I am an out of state student from NYC. UA gave my a huge scholarship and at first I was hesitant to go to school in the deep south but I love it. The campus is amazing and the people are so friendly.
3rd Year Male -- Class 2017
Education Quality: A+, Surrounding City: B
Rate this comment:
Useless (1) (2) (3) (4) (5) Helpful
"As the son of two graduates of the
Quite Bright
Telecommunications
As the son of two graduates of the University of Alabama, and as a lifelong resident of Tuscaloosa, my review of the University is from someone who knows it quite well (and it may surprise you).
Positives: The education is pretty good. It's not Harvard, but it's solid. I probably learned the most in my liberal arts and elective classes outside my major. The faculty is very hit and miss, but some of them are very helpful (others, well...). The campus has SOME very nice parts to it (Quad, Lakeside, River Road Park). The school is not overwhelmingly conservative, even though that seems to be the perception. The campus is safe and I never felt even the slightest bit of danger at any time. Football season is exciting and there are always a ton of pretty girls anywhere you look.
Negatives: The student body is largely unfriendly and everyone tries to dress and look the same. Greek life overshadows everything at UA and not in a positive way. The dress code seems to be (for guys) North Pace jackets, sandals, frizzy hair, and sunglasses that you hang from your neck when you're not wearing them. A handful of the Greeks are friendly, but the vast majority are mean spirited. The student body, and I'm generalizing, seem to be scared of individuality. It's a very sheepish mindset. Intellectuals exist but you have to seek them out (most are in New College or Engineering). There are some faculty who are very poor (Wendy Bruce, Leslie Dixon, come to mind). Parts of the campus are in bad shape (Gordon Palmer, Rowand Johnson). Parking is a chronic problem but there's never a shortage of people handing out tickets if you park anywhere even close to your class. Tuition only seems to be going up and if you're not from Alabama or the South, you may feel out of place both culturally and socially. The town of Tuscaloosa is small and there isn't much here to do except drink.Overall: I simply can't give a full recommendation to Alabama. Even as a second generation legacy student, I have seen too many negatives (almost all of which were of the social variety) to encourage my son or daughter to attend the school one day. Even if you wanted to pledge to a Frat or Sorority, the hazing stories I heard from relatives were absolutely horrible. The education is actually pretty good (though not elite) and the school's academic ranking has been steadily climbing (it's the fourth highest ranked school in the SEC, behind Vanderbilt, Florida, and Georgia). Alabama is plagued by its own sheepishness though, and even though I met some nice people during my time there, they were easily in the minority. There are simply better options out there than Alabama, especially for the intellectual crowd.
4th Year Male -- Class 2008
Perceived Campus Safety: A, Collaboration/Competitive: D
Rate this comment:
Useless (1) (2) (3) (4) (5) Helpful
"Greek life isn't essential to have a social
Quite Bright
Philosophy
Greek life isn't essential to have a social life here, but I would admit that it is the easiest available conduit to new friends at the University. However, as all Freshmen now live in dorms, it shouldn't be too big of a problem to meet people in your dorm and make some lasting friendships. I came up here with about 25 high school mates and really only hang out with 1 or 2 of them still. However, I've got at least 3 really good friends from out of state, and at least 40 to 50 more that I've met in classes and activities. The University is accommodating with its availability of extra-curriculars and intramural sports activities. The campus is very aesthetically pleasing, in generally good shape, and the recreation center is second to none. There's nothing quite like Alabama Football in the fall, either. Even if you're not a fan, the experience should still be quite enthralling. As for the city of Tuscaloosa, there isn't a whole lot to do outside of drinking or going to a movie. T-Town doesn't have a particularly large amount of culture, and there aren't any great bars. There are tons of bars, but most of them are usually jam-packed, have really loud (often really bad) bands, are uncannily smoky, and serve all their drinks in clear plastic cups (I'm not a toddler, don't worry; I won't drop my little sippy cup!) I really think how one perceives the social scene depends a lot on how one spends time with friends. Bars can be fun, but friends are often much more so. All in all, Alabama's a good school that has great faculty members and academic programs (if you REALLY know what you're looking for) that provides a variety of opportunities that cover almost anything imaginable. Though some aspects of the Greek life may seem over-the-top or alienating, keep in mind that only 20% of the school is Greek...
3rd Year Male -- Class 2009
Useful Schoolwork: A+, Social Life: C
Rate this comment:
Useless (1) (2) (3) (4) (5) Helpful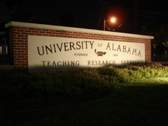 Rankings UAlabama appears in
Similar Colleges by Safety