"If your kid wants to pursue their studies
Biology
If your kid wants to pursue their studies in Religion or become a priest then by all means this is the right place. But there is no room for diversity, and students' success is not measured by their academic excellence, but rather the type of life they want to live. And they are always judged by the faculty through their way of living rather than their academic excellence.
Male -- Class 2000
Rate this comment:
Useless (1) (2) (3) (4) (5) Helpful
"Harding is not perfect, by any means.
Bright
Social Work
Harding is not perfect, by any means. I do, though, consider it a very nice & friendly campus. I liked most of my instructors. Going to chapel Mon-Fri, curfew & other restrictions are laid out in detail before you sign on the dotted line. Yes, it's a very expensive college. I would advise getting your gen ed's out of the way at a community college if you want to save a lot of money.
Alumnus Male -- Class 2000
Starting Job: Counselor; Preparedness: B Reputation: C-
Rate this comment:
Useless (1) (2) (3) (4) (5) Helpful
Education
"Do not go to this horrible school
Male -- Class 2000
Rate this comment:
Useless (1) (2) (3) (4) (5) Helpful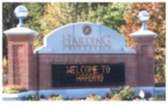 Similar Colleges by Education Quality