Moving On Center School for Participatory Arts and Somatic Research
Out of 0 Surveys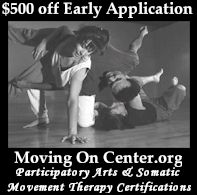 MOVING
On Center offers a unique interdisciplinary approach to the study of holistic and creative practices, applied to the fields of performance, education and therapy.

The curriculum draws on dance, theater, voice and a wide variety of Somatic disciplines to aid students in deepening their awareness and understanding of movement and the body. Moving on Center is committed to promoting social change.

It is our intention to train students to become community leaders and artists who are able to share this work in diverse groups who often do not have access to it. Our location at Alice Cultural Arts Center in Oakland, CA. provides students the opportunity to work within a culturally diverse setting.