"

Stanford University is an

Aug 27 2013

Biology

Stanford University is an excellent college and so far the experience has been phenomenal. I really cannot find anything bad to say about Stanford and I normally like to point things out since I am a stickler.

2nd Year Female -- Class 2015

Education Quality: A+,
May 20 2012
Accounting
"

I absolutely loved it. I have never actually gone there, but the concept sounds nice.
Alumnus Male -- Class 2000
Preparedness: A+ Reputation: A+
"

I've been here only for a quarter and

Dec 26 2012

PreMed and Medical

I've been here only for a quarter and I have never felt like I belong somewhere as much as I do now! I love Stanford's students and professors who are not arrogant in spite of the fact that most of them come from great legacies. Everyone is so kind and humble; I have yet to meet a snotty person on campus.

1st Year Female -- Class 2016

Education Quality: A+, Surrounding City: B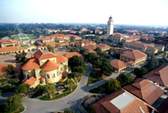 Similar Colleges by Safety