"DO NOT COME TO THIS UNIVERSITY!! IT IS
Journalism
DO NOT COME TO THIS UNIVERSITY!! IT IS A SHAM!! I AM TRANSFERRING AS SOON AS POSSIBLE.
I only came here because of a scholarship -- worst decision of my life. This is the worst school in America, I am convinced. The school is falling apart, the technology is in the stone age, and 90% of professors are simply incompetent. I feel EXTREMELY sorry for people who are actually paying 50k to come to this school. Are you kidding me? You should not come to Howard simply for the legacy or social life. You can get the same damn thing at a PWI's Black Student Union.
Coming here will not feel like the regular college experience. You won't be in a real world environment. In this country you will most likely not be working with an 100% black population. It's just not real life.
There's just something about Howard that doesn't feel like other colleges I have visited. I think it can be summed to not having adequate resources.
We have barely any dining halls (only 2, with very limited hours), we have no on campus food places (only a handful that are quite a bit away), we have no adequate 24 hour study spaces (yeah, the fact that the only 24 hour library is called "Club Founders"....). We don't have resources or good curriculum. My friends at PWI's have like 24 hour access to computer labs filled with the latest Macs and software. They do hands on training and learning. (I am one year in journalism student and have not even touched editing software in my courses)
To be completely honest, the only reason Howard is still here is because great kids come here. Without the smart intelligent people here, this school would be NOTHING.
Also why is the infrastructure crumbling? What are the students paying for? They are not paying for amenities or competent staff, so where is it going?
If this place were to actually be audited (because obviously they are paying someone off) this place would be SHUT DOWN.
DO NOT COME TO THIS FUCKING AWFUL, INCOMPETENT, CRUMBLING, RACIST, GHETTO, DISGUSTING, SMALL, UGLY SCHOOL JUST BECAUSE OF THE HISTORY -- THIS PLACE FUCKING FUCKING SUCKS I WOULD NEVER EVER FUCKING TELL ANYONE TO GO HERE. AND IF YOU ARE HERE NOW
GET THE FUUUUUUUCK OUT OF THIS PLACE.
I HATE THIS FUCKING SCHOOLDO NOT COME HERE IF YOU DO NOT HAVE A SCHOLARSHIP.
Male -- Class 2000
Rate this comment:
Useless (1) (2) (3) (4) (5) Helpful
"To make this short: the students are the
Quite Bright
Sociology
To make this short: the students are the reason why the school still looks somewhat good, everyone here is very driven and motivated.
The buildings: many of them are new so if you are in a tour ask to see buildings such as Douglas, the Library, the Towers dorm and many others because many times they will only show you the new dorms and buildings where you'd probably not spend most of your time anyways.
The professors: the newer ones are more open to different teaching methods that create a better learning environment. For example I had one teacher named Ms. Perkins who taught through discussion with the class and sat with us in a circle, we had actual conversation to understand the course rather than just reading slides and I've learned so much in her class alone. Then there are professors who have been there for quite a while who have gotten "comfortable" with their teaching methods and refuse to budge. For example if you have Dr. Ron Manuel run! Teachers like him refuse to understand that there is more than one way to teach something. The problem is there is such a low amount of professors for certain courses at Howard that many times you will be forced to take some of these professors. The President: Our current president is the best and actually cares about his students. Although there are still a lot of troubles at Howard, it sort of feels like Obama's first terms where he did a lot of good but had to clean up a lot of Bush's mess- that's kind of where we're at right now.
3rd Year Male -- Class 2016
Campus Aesthetics: A+, Perceived Campus Safety: F
Rate this comment:
Useless (1) (2) (3) (4) (5) Helpful
"I was a high performing student before coming
Quite Bright
Business - Management and Administration
I was a high performing student before coming to Howard. It was a "safety" school on my list. I had always envisioned myself attending a top-20 school and was actually accepted to 3 top-20 schools. However, money played the largest role and Howard ended up offering me a full ride scholarship. As a black student that was coming from a fairly elitist, predominantly white school, I wasn't entirely sure what to expect. The first thing I noticed when I got here was the surplus of beautiful women and diverse (sometimes even questionable lol) style choices. For a while I wanted to transfer because I didn't feel like I was being challenged. That is until my friend, who is currently attending a top Ivy-League school, came to visit me. From what he told me, I realized that there wasn't really that big of a difference. Howard really is what you make of it. There are those who, after graduating end up becoming blue-collar folks working for a steady but low pay. Then there are those who graduate having done internships every summer while here and make 6-figures just 5 years after leaving. If you want to come here, please make sure that you join RELEVANT clubs and do extra curricular's that are actually going to benefit you going forward in life. Don't join a dance team when you already have 10 other commitments a day TRUST ME. Leave your room every once in a while and make sure that you get to know your fellow students at the beginning of the year. Howard students have a tendency to be sort of cliquey initially (however, the older we get, the more that fades away). The women are beautiful here but don't expect to find your wife (unless you're into girls who have had lots of...never mind). Overall, I'd give it a solid 8/10. It's a great school with a great history, but at the same time, the campus doesn't look that great. For a college, especially one with the prestige that Howard has, you'd expect to be walking into buildings that are reminiscent of your small town public middle school.
1st Year Male -- Class 2018
Useful Schoolwork: A+, Campus Aesthetics: C
Rate this comment:
Useless (1) (2) (3) (4) (5) Helpful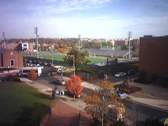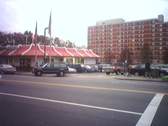 Rankings Howard appears in
Similar Colleges by Safety