The University of Michigan - Dearborn
Not so bright
Biology
"Be ready if you are from foreigner or black , they r so racist!!!
4th Year Male -- Class 2017
Perceived Campus Safety: B-, Individual Value: F
Rate this comment:
Useless (1) (2) (3) (4) (5) Helpful
"The University of Michigan Dearborn is a very
Super Brilliant
Business - Management and Administration
The University of Michigan Dearborn is a very RACIST school. The admissions department/financial aid office BLATANTLY concealed and stolen a $3,000 non-renewable transfer scholarship that was automatically due to me when I transferred there in the fall of 2012. Being an African-American male, they assume that all blacks are dumb! Well, not me. I am trying to retrieve from these white supremacist what they have taken from me!
2nd Year Male -- Class 2016
Preparedness: Reputation:
Rate this comment:
Useless (1) (2) (3) (4) (5) Helpful
"Background: grew up within minutes of the university,
Quite Bright
Computer Engineering
Background:
grew up within minutes of the university, i didn't even apply to many others, this is what i could afford (my first semester only cost $3k).
Experience: like most universities, it's what you make of it. The school certainly does not go out of its way to help/find/build awareness of the extracurriculars that are available (Intramural sports - basketball, volleyball, broomball, hockey, etc., Clubs involving video, radio, bowling, etc.). Also since students tend to come to school then go home or to work, there really isn't a good social life. The food is terrible - there's very few options on campus. The parking is terrible - you begin to plan your day based on when you can get a spot. The lab equipment is antiquated and old - most of it worked...but was stuff my parents probably used in their time. The experience was frustrating to say the least. Though toward the end of my career at the university there was some change for the better, hopefully it continues that way.
Pros: I could easily work a part-time job during school (to pay for each semester - No Debt!!), the classes were not terribly difficult, though many profs would be more than willing to help you go above and beyond.
The Co-Op program is top notch. Many complain that you pay for it (have to register for 3 credits or something), but it's really the best way to get an internship. Companies come to them expecting students, and they match and fit students to the companies. Interviews are still required to get the position, but overall it's really what is going to lead to job placement after you finish.
Cons: Clubs and activities were available, though you were usually on campus till very late in the evening to participate. Your first few years you'll be doing a lot of group work with many students who just don't care, but it gets better as the level of class increases.In the end I finished my degrees and got accepted to a PhD program at a top 10 school. The program has potential, there's plenty to learn, the campus is nice, and it's super cheap. Overall, you're getting a good return on investment (again, No Major Debt!). Though you have to work for it more if you're looking to have something of a 'college experience'.
5th Year Male -- Class 2009
Campus Maintenance: A, Social Life: C-
Rate this comment:
Useless (1) (2) (3) (4) (5) Helpful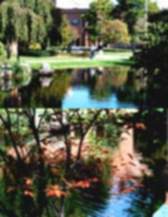 Similar Colleges by Safety