"

I have a deep felt love for Bethel

Feb 08 2009

Political Science

I have a deep felt love for Bethel. It is much more than a bunch of buildings to me. The moment I enter the gates I feel comforted, because I know that I am in a safe place that I can call home. It is where I have become a real Christian man and have learned the importance of community in the body of Christ. I have developed my passions and gained the skills and connections that I will need in my life after college. I seriously cannot imagine what my life would be like without Bethel. There really isn't a better place for Christian development with the sense of purpose you receive by going here.

3rd Year Male -- Class 2010

Faculty Accessibility: A+, Friendliness: C-
Feb 08 2009
Anthropology
"

This place blows. DO NOT SEND YOUR CHILD HERE FOR THEY WILL BE JUDGED.
Male -- Class 2000
Preparedness: - Reputation: -
"

BU is such a wonderful place to be

Nov 05 2009

Education

BU is such a wonderful place to be. The RA's are so good-spirited and helpful, genuinely caring about each and every person on their floor. Chapel and Vespers are so beneficial, it's a little hard to find time to set aside from homework, but once you get there it becomes worth it. The Elementary Education program here is awesome thus far and they allow you to broaden up your area of specialty, urging you to choose something you're good at and very interested in. The only set back is not having a car your freshman year, like many other colleges. You then are forced to come up with creative ideas for things to do on the weekends. I also wasn't aware of how many people left on the weekends- most students are from the cities, so they tend to go home. But all in all, Bethel is a great school with a strong reputation and a beautiful campus.

1st Year Female -- Class 2013

Education Quality: A+, Surrounding City: C+
Recently Reviewed Schools!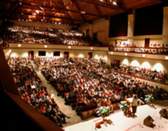 Similar Colleges by Safety