Western Carolina University
"I would have been
Average
Social Work
I would have been better off joining the military. This place was a party school. I was so lazy at the time, I failed to recognize it. It was a poor investment, all things considered, and I am being nice saying that much.
Alumnus Male -- Class 2000
Starting Job: various but ltd; Preparedness: F Reputation: F
Rate this comment:
Useless (1) (2) (3) (4) (5) Helpful
"Some of the business teachers are awsome.
Bright
Business - Management and Administration
Some of the business teachers are awsome. The liberal studies is sub par with second rate professors( not always the case but a majority are). The administrators are un helpful rude and condisending. This school cares more about money than they do about there students and it may seem cheaper than some schools but after all the fees that you end up paying it will be just as much as any other school. This school is the easiest school to get into. Because it seems the cheapest you do get a lot of very down to earth students which is awsome when making friends but I would rather go to another school so I wouldn't have to deal with this school. I would recommend to try your hardest to get into another school I know this is a lot of people's only option my advice is to save up money for all the hidden fees and take some classes that help with patience because you will need a lot of it.
2nd Year Male -- Class 2017
Education Quality: A+, Individual Value: F
Rate this comment:
Useless (1) (2) (3) (4) (5) Helpful
"I am an international student at wcu, I
Quite Bright
Chemistry
I am an international student at wcu, I came here thinking that its a small university so it will be a great resource for me to learn and there will be a lot of one-on-one interaction and faculty will be friendly and accepting. But heck no way, the community is awful, because of your color, faculty is biased, completely biased. I have seen a lot of professors giving me really bad grade in final, I make A's in all the exams but some professors just like to give bad grades in the final so that my GPA can be lowered down as much as possible. I was at 86.8% which should be count as 87% but my professor didnt count as B+ in fact he gave me B. People may not know their maths here. I always thought it will be great experience, but no way, I had terribly bad advisors in the beginning who really guided me bad. Due to that I am taking 19 credit hours every semester, and my GPA is lowering down but no one cares at this university. People are not at all friendly with international students. It is my advice for internationals not to come to WCU at all.
3rd Year Female -- Class 2016
Faculty Accessibility: A, Scholastic Success: F
Rate this comment:
Useless (1) (2) (3) (4) (5) Helpful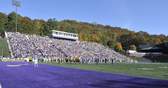 Similar Colleges by Safety