"I stumbled across this website and I just
Bright
I stumbled across this website and I just wanted to give my opinion as an alumni about life after AU. Finding a job upon graduation is extremely difficult. Career Services doesn't have job placement, they just give career advice. As a result, it's 100% up to you to find a job. Most of the people that I graduated with AU from wish that they had gone somewhere else because of this. I finished in 2008 and myself and many others from my year are still looking for work. Unless you have great employment connections, you might want to consider a school that gives its students better job opportunities and recruiting.
Alumna Female -- Class 2000
Preparedness: F Reputation: F
Rate this comment:
Useless (1) (2) (3) (4) (5) Helpful
"The campus is a ghost town on weekends and weekdays.
Male -- Class 2000
Rate this comment:
Useless (1) (2) (3) (4) (5) Helpful
"Adelphi isn't anything special as a school overall,
Bright
Other
Adelphi isn't anything special as a school overall, but it's good. The facilities are mostly either renovated or new so there's nothing too bad. I commute (like most people there) but I hear that some of dorm halls aren't updated. There isn't air conditioning in dorm halls like Eddy and Linen, so that can't be good.
I was close-minded about looking into other schools and made Adelphi my one and only choice, which was a terrible decision on my part. The #1 part of college is education of course, but another part of it is about the social life. I didn't expect Adelphi to be such a commuter heavy school. People come, they get their classes done, and go home. I try to stay and find things to do, but there isn't enough people around to do anything. People were friendly during orientation and the first week, but that's disappeared since then. Everyone has their group of friends, including myself, but no one wants to expand and be sociable with other people. I feel I try to, but I get nothing in conversation with others or they don't look to talk. I'm one of many people who feel this way.I already have to transfer next year for financial purposes, but I won't be disappointed about leaving to say the least. If you get a full scholarship and don't plan on spending much time at Adelphi other than classes, then go for it. If you expect a decent social life there, you're expecting too much.
1st Year Male -- Class 2016
Campus Aesthetics: A, Social Life: D+
Rate this comment:
Useless (1) (2) (3) (4) (5) Helpful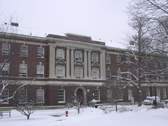 Rankings Adelphi appears in

Lists Adelphi appears in
Similar Colleges by Safety