Rensselaer Polytechnic Institute
Not so bright
"I wish I had read all these negative reviews six years ago. I promise you all of them are true.
Alumnus Male -- Class 2000
Preparedness: F Reputation: F
Rate this comment:
Useless (1) (2) (3) (4) (5) Helpful
"I think that People should ask the students
Computer Science
I think that People should ask the students about RPI before coming here. Not the faculty and not anyone who is employed by RPI, but the students who dont get a pay check to say "omg it's such a wonderful place." RPI has been a nightmare. There are some racist, rude, and blatantly arrogant faculty and people. I wish I would've paid closer attention to coming here than i had before I came. RPI is worst than I had even imagined. The only good social life you will have is if you join a club and or sorority and basically ignore everything else that does on, on-campus. If I could choose another college all over again I would definitely not choose RPI. Talk to members of the student body. See if more people like it or hate it. If so ask why. If not ask why. It's not worth it to see only part of the school when all admissions wants is your money, not you as an individual.
Male -- Class 2000
Rate this comment:
Useless (1) (2) (3) (4) (5) Helpful
"RPI was a massive letdown.
Quite Bright
Electrical Engineering
RPI was a massive letdown. All the craziness about getting into a "good school", with a good name, came crashing down at RPI. The imbalance of investing in expensive administration, without investing in the school and facilities is painful at best. The school cost $250K for 4 years. Thats a QUARTER OF A MILLION DOLLARS, For a reasonable education that could be had at most other undergraduate engineering schools.
While I graduated with good grades, in Electrical Engineering, and in 4 years, it made me hate education, and resent everything that RPI represents. The university president is an embarrassment to the school, and its filthy, un-maintained run down condition.
The student body is mostly disinterested in being there as well. You don't meet too many happy students at RPI, rather, disinterested kids who just want to leave as soon as they can.Its no wonder that the endowment is down 40% in the past decade. I will never give them another dime.
Alumna Female -- Class 2000
Preparedness: D+ Reputation: D
Rate this comment:
Useless (1) (2) (3) (4) (5) Helpful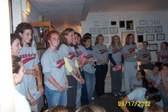 Similar Colleges by Education Quality