The University of Rochester
"This place seems to have everything, except it
Quite Bright
Computer Science
This place seems to have everything, except it doesn't let you enjoy anything. I have been here for over 3 yrs and I don't know what's wrong with this place. It just sucks the energy out of you. Maybe cause its right next to a cemetery or the continous dreary cold weather, or just being around so many disheartened individuals. I had a nice freshamn year because I went out and got myself actively involved in things, but screwed my academics in the process (i.e.) did average which was considered bad by most here. But the more I tried fixing, the more i screwed up cause I was enjoying things less and less. I would say a huge majority of the student population here is depressed, which maybe the reason why students have to pay for mental counseling as part of their tuiton. Most get confined to cliques of groups, and the dating scene is practically non-existence. Not many good looking girls, but they do have plenty of attitude. Although, the new freshman class looks better, so who knows maybe things are changing. Frats and sorority are on the lamer side, as the parties are just drinking binge. But I honestly believe its no the place that sucks but the people who goes here, as most are ivy rejects. It has great offerings like music at eastman, events such as Meliora Weekend, Dandelion Day aka Drinking Day, The Hive (on site pub), lots of organizations, clubs and formal dance events, except that only a handful takes advantage of the social opportunites and that's when they are in a good mood. I came from NYC, and was used to a active lifestyle so I almost feel claustrobhic by how desolate things are here. However, if you can forget your craving for having a life, and buckle down on your education...it does provide you with a top notch education. As most students are double majors. Most I believe goes on to graduate school, as that's what this research university is best suited for. In the computer science department, I am sad to say I haven't learned much practical application that I can get a job with when i graduate, and thus now taking some econ and psych classes (both department are very good with reputed professors), as I don't plan on going to grad school, not that I could with my grades. So if you are the indoor type who doesn't need much social contact to survive, this is a great university. For the rest of us, specially if you are from a big city, come here only if you intend to transfer out.
3rd Year Male -- Class 2003
Perceived Campus Safety: A+, Social Life: D
Rate this comment:
Useless (1) (2) (3) (4) (5) Helpful
"The academics at the U of R are
Bright
Political Science
The academics at the U of R are solid, especially in the sciences. The humanities are pretty good too. The campus is probably one of the better looking ones I've been to and I've been to quite a few campuses. Overall I had a good experience. Perhaps the best thing about the school is that if you do fairly well as an undergraduate you will more than likely get to go to a very prestigious graduate school because the U of R has a very good reputation for preparing students for law school, graduate enginnering work, and medical school. As for the social life, I don't know about what other people might say but it totally and unequivically sucks, the social scene is more of a joke really than anything else (I'm looking at this from a male perspective). On top of all this the weather is cold, very, very cold, Rochester gets more snow then Alaska, just look it up if you don't believe me. As for most of the people who went there I found them be very uptight, men and women alike, and a little too serious when it came to studying, I graduated with a 3.44 GPA so I don't consider myself a party animal but I also like to have a good time. For those of you who want to be in a serious environment and don't mind being surrounded by people who study considerably on the weekends this is the place for you, however if you want a decent social scene do not come here.
Alumnus Male -- Class 2000
Rate this comment:
Useless (1) (2) (3) (4) (5) Helpful
"It all depends on who you are.
Bright
Engineering Department
It all depends on who you are. You will find cool very cool and down to earth people here unlike most social based schools. However, the catch is its tremendous quantity of losers. If you take them seriously, you will be pissed off your whole life. Just take it easy. The education program can be awesome. I took the hardest classes possible and I still got a 3.26. I had to work really hard though. The quality of girls and greek life just plain sucks. I'm praying to find some cool members of the opposite sex. That basically means open-minded, in shape like me, non-alcoholic, and no weed.
1st Year Male -- Class 2005
Useful Schoolwork: A+, Social Life: C
Rate this comment:
Useless (1) (2) (3) (4) (5) Helpful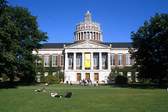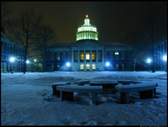 Similar Colleges by Safety