The University of Rochester
"The school is really
Quite Bright
Geography and Geosciences
The school is really what you make of it. If you isolate yourself and don't make any effort to be involved you will probably have a miserable time. Take the initiative to find something you love and be involved and you will have an awesome time while getting an excellent education.
4th Year Male -- Class 2011
Campus Aesthetics: A+, Campus Maintenance: C
Rate this comment:
Useless (1) (2) (3) (4) (5) Helpful
"You work as if
Quite Bright
Economics
You work as if you in a top 50 school but when it comes down to job applications you judged as a unheard of state school. for $50,000 a year you dont receive an experiance value equal to it/
2nd Year Male -- Class 2013
Education Quality: A+, University Resource Use: D+
Rate this comment:
Useless (1) (2) (3) (4) (5) Helpful
"The University of Rochester is a carefully constructed
Bright
Other
The University of Rochester is a carefully constructed ruse, devised to lure in potential students with promises of academic freedom and a vibrant campus life. The tours are geared around quite literally exaggerating almost every aspect of academic and social life at the school. Expect to drink and carouse with your friends behind closed doors with the music turned down, since security and the entire administration not only frown upon any kind of fun, but actively stomp it out when it crops up. The fraternity quad is dead, with security officers going into the houses regularly during parties; they even regulate how much beer an on-campus fraternity can have. I have been written up now a total of 8 times, for which I was guilty exactly once. The administrative and judicial system of the school is a hierarchy of petty bureaucrats who are really good at pretending to care about your problems, but then get you into trouble anyway. Should you end up in an administrative hearing, expect a negative outcome since such things are mere star chambers to keep up the illusion that the school actually cares about its students. I have had a great experience in my department (Classics), but that's because the school pretty much leaves us alone since we're not going to be going into any kind of weapons research or other such unethical projects the school is heavily invested in. I have taken classes outside the department and they are atrocious--to put it lightly. Expect professors with little or no interest in teaching whatsoever. If they speak English, consider yourself lucky. The "city" of Rochester is nothing other than a dead husk of what was once a vibrant commercial hub with large suburbs. The school is enclosed by a ghetto and a cemetery--apt representations of what Rochester is all about. The student body is pretty much homogeneous: relatively wealthy, preppy white kids who pretty much keep their heads down and do what they're told. They will all become exactly like their fathers. There are outliers, of course: there's a pretty large asian population that pretty much keeps to itself and there are blips on the radar in terms of real people. There are pot smokers and they're not hard to find. They're really the only kind of real people in this school. The weather is terrible: don't be fooled by the great weather in September, because it's all downhill from there. Sunlight and temperatures above freezing are rare luxuries after October. From the outside looking in, Rochester looks like a vibrant, dedicated student body with very rigorous academics located in an urban setting with no core curriculum. Sounds like a dream come true, right? Wrong. The administration, the academics, the student body, the city, the weather--all these things are pretty much terrible and should be avoided at all costs. Actually, just avoid the city of Rochester for the rest of your life, especially the university. Stay out while you still can.
2nd Year Male -- Class 2013
Education Quality: A+, Individual Value: F
Rate this comment:
Useless (1) (2) (3) (4) (5) Helpful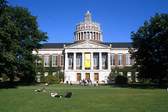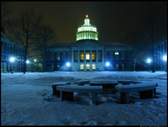 Similar Colleges by Safety