The University of Rochester
"I had a wonderful experience at the University
Bright
Other
I had a wonderful experience at the University of Rochester, where I studied at the Institute of Optics. My peers were smart and friendly, and my professors were excellent at teaching and ensuring student success. I had a balanced lifestyle between academic workload and social activity. I was able to get many internships as a student, and eventually landed a well-paying job right after graduation. If I had to start over, I'd come to the University again.
Alumnus Male -- Class 2000
Starting Job: Optical Engineer; Preparedness: A+ Reputation: A+
Rate this comment:
Useless (1) (2) (3) (4) (5) Helpful
"Excellent resources are available
Not so bright
Chemistry
Excellent resources are available to all students. It is really easy to start on research even as early as freshman year! Sciences at this school are no walk in the park, but they prepare you well for graduate work or any career in your field.
4th Year Male -- Class 2014
Scholastic Success: A+, Perceived Campus Safety: B
Rate this comment:
Useless (1) (2) (3) (4) (5) Helpful
"My experience at the University has been pretty
Bright
Computer Science
My experience at the University has been pretty positive. Of course the food sucks and the weather is bad (from December to March; but campus is pretty small, so getting around isn't too bad). The academics are amazing and the freedom early on feels great. The people are friendly and open minded, albeit a bit weird, but you can definitely tell that many of us were borderline Ivy rejections (aka the only "Ivy" kids we have here were accepted to Cornell, but U of R gave them more money).
The social life is...okay. Honestly though, you should come to college for an education and the social life should be a perk. That being said, there are parties every weekend or so (but you probably don't want to walk to parties in January anyway) and the school claims to be working on alternate social activities for weekend nights, other than the $2 movies at Hoyt (which are great!). You can definitely find something to do, and the school is small enough that you'll develop a close knit group pretty quickly.
Overall, U of R is a pretty good school. Don't expect perfect; you're not going to find that anywhere. Make the most of your time here, and you'll enjoy it.
1st Year Male -- Class 2016
Education Quality: A+, Surrounding City: B-
Rate this comment:
Useless (1) (2) (3) (4) (5) Helpful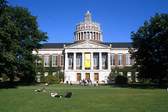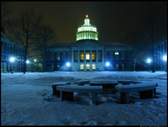 Similar Colleges by Safety