The University of Akron Graduate Programs in Business
Out of 0 Surveys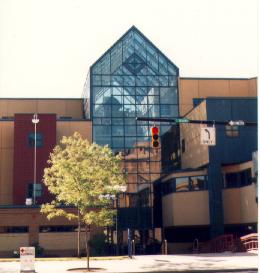 GRADUATE
Programs in Business at The University of Akron offers four programs, three certificate programs and three joint degree programs. All of our degrees are open to students with or without an undergraduate degree in business. All programs are available to full-time and part-time students. Classes are taught primarily at night M-TH and meet one night per week in 3 hour sessions.

Our Master of Business Administration (MBA) offers 12 concentrations: accounting, e-business, entrepreneurship, finance, global sales management, health services, internaitonal business, international finance, management, management of technology and innovation, marketing, supply chain management.

Our Master of Science in Management (MSM) offers two concentrations: human resources and information systems.

The Master of Taxation and the Master of Science in Accountancy (MSA) are available through the George W. Daverio School of Accountancy. The MSA has two concentrations: professional accounting and accounting information systems. With tracks available for those with an undergraduate degree in business and tracks for those without a business background.

Global sales management, e-business and management of technology and innovation are available as 15 credit certificate programs which are open to students who have completed a bachelor's degree.

The CBA and the School of Law have three joint degree programs: MBA/J.D., M Tax/J.D and MSM-HR/J.D. The total requirements for each degree are decreased based on shared courses.

The accelerated 34 credit MBA and 33 credit MSM programs can be completed in one year on a full-time basis for students with a recent undergraduate degree in Business.

Students in the full-time 1+1 MBA and MSM programs can complete the first year of 24 credit foundation courses via the Internet and complete the second year of advanced courses on the UA campus.

Students in the Traditional 58 credit MBA program, 57 MSM program or the MSA options, can complete the program in two years full-time or four years part-time. The 48 credit M Tax can be a bit shorter.

Financial Aid is available for full-time students on a competitive basis based on merit. Aid is available in the form of assistantships and scholarships.

Among other things, the CBA has a career center, an extensive computer lab, centralized advising, a world class Institute for Global Business, a Leadership Speaker Series and a nationally recognized sales lab. We are proud to currently have nine Fulbright scholars admitted to our graduate programs from around the world.

A one year International Executive MBA (IEMBA) will also be available beginning in the Fall 2002 semeser.
Recently Reviewed Colleges!