Carnegie Mellon University
"Carnegie Mellon will work you hard, and chances
Quite Bright
Architecture & Urban Planning Department
Carnegie Mellon will work you hard, and chances are good that if you get in and are reading this now, you're thinking, "I can take it." I know I was, but it is a constant onslaught of work that is taxing both in volume and in the mental faculties required. I found myself wishing for busy work, because I could do that in my sleep. Instead, I was exhausted 80% of the time because there was that much work, and not enough time to do it. Every professor teaches as though theirs is the only class that you are in, and you learn an exceptional amount. You also learn how to accept that you're not going to have the time to do your best on every assignment, and that sometimes turning a C-paper in on time is better than turning an A-paper in a day late. Attending CMU is an education in your limits as a student as much as it is an exercise in the persuit of academic knowledge. The downside to this is that it is very easy to burn out, but the upside is that everyone is in that boat with you. There may be competition between students, but you're all suffering through the same sort of self-inflicted, sleep-deprived torture, and it brings you closer together. CMU students, while almost always secretly thinking that our own program is the worst, have a bond of mutual respect wrought in the all-nighters of the computer clusters that runs as deep as the tartan that lines our hoods. Generally speaking we come for the academics, but we stay for the unique and crazy cast of characters that compose the student body, and we learn as much from them as we do from our professors. Carnegie Mellon will challenge you, and push you to the limits of your stess-meter; for other brilliant and talented individuals out there who are up for an emotional and academic roller-coaster, welcome to the clan!
5th Year Female -- Class 2011
Useful Schoolwork: A+, Collaboration/Competitive: C-
Rate this comment:
Useless (1) (2) (3) (4) (5) Helpful
"I've been very happy with CMU so far.
Quite Bright
Chemical Engineering
I've been very happy with CMU so far. The engineering department challenges its students, but the work load is bearable if managed right. It's fairly easy to get involved with research in chemE. Also, job placement is excellent, as companies recognize that a degree from CMU means you know your stuff.
As a whole, the university has a lot of resources for its students. The career center is amazing, and we have an on campus medical center and counseling and psychological services. For academics, there's a lot of resources if you're struggling, including peer tutoring, study groups and supplemental instruction.
Most CMUers are slightly nerdy. It is just as common to see people playing video games on a Friday night as partying. But the average person will hang out with friends, often catching a movie in the UC, going to the game room or watching a play put on by the theater department. Student organizations are plentiful, and are easy to join.
The dining is fairly good, thanks to a new food company that they hired this year. Housing is decent.CMU is a great school for those that are motivated and intelligent and like a more nerdy atmosphere.
1st Year Female -- Class 2013
Education Quality: A, Campus Aesthetics: B
Rate this comment:
Useless (1) (2) (3) (4) (5) Helpful
"I'm a biology major who took a LOT
Quite Bright
Biology
I'm a biology major who took a LOT of CS courses.
Academics:
The academics are, quite frankly, awesome. CMU specializes in all sorts of fields which allows anyone who has an interest in another field to easily take top tier classes in them. CMU is known for the sciences, but it still has amazing schools in architecture, art and drama, business, etc. It was CMU that helped me discover my passion for CS. If you KNOW you are interested in the sciences but are maybe not sure about what you want to major in, then CMU is definitely a school to look at.
Professors: I rarely talked with professors but I've heard they're pretty friendly and accessible. This isn't some snotty school where all the professors are absorbed in their research to enhance the school's reputation.
Social Life: The social life may not be as great as people expect. It is true that the school is more heavily focused on academics, but I see no reason why people can't have the social life they desire. If you like to party, then there are plenty of frats that do so. You can even go to UPitt or the other 50 colleges in Pittsburgh to get your groove on. If you like to be a loner, that's always an option too and you won't be "alone" in that category as there are plenty of introverts here that prefer studying and quite environments. Most people are in between and I don't see how any part of CMU prevents those people from making friends and having a fun time.Advice: There is no doubt the school is academically challenging. You may feel overworked. You probably won't get the grades that you were thinking of getting. With this in mind, I think it's important to keep things in perspective. When you get a bad grade, don't beat yourself up thinking your a failure. Everyone knows this is a hard school. Everyone knows that grades aren't everything.
3rd Year Male -- Class 2013
Scholastic Success: A+, Useful Schoolwork: B-
Rate this comment:
Useless (1) (2) (3) (4) (5) Helpful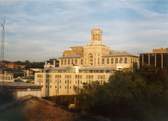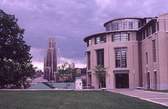 Similar Colleges by Safety