The University of Scranton
"Scranton does not appear
Quite Bright
Undecided
Scranton does not appear to be the same school as it was not the tour. There is nothing to do at this school-low school spirit.
1st Year Female -- Class 2016
Faculty Accessibility: B, Perceived Campus Safety: F
Rate this comment:
Useless (1) (2) (3) (4) (5) Helpful
"The University of Scranton was not a good
Average
Communications
The University of Scranton was not a good fit for me; I really was the proverbial square peg jammed into a round hole. I recognized this very quickly after beginning my freshman year, but I opted to stick it out because I realized that transferring could cause me to lose credits and therefore damage my ability to study abroad my junior year.
There are positives to the school, the biggest being that academics are strong and there are plenty of excellent professors. Other positives:
1) Class sizes are very reasonable.
2) There is an intercession period that allows you to fit in an entire course during January, and if you don't pursue that route it means you get an exceptionally long semester break. This is a positive if you want to work over the semester break or just enjoy a nice stretch of time at home, away from the pressures of academic life.
3) The dining hall meals were always very good and I'm sure they've only gotten better with the new DeNaples cafeterias. I never had a problem finding delicious vegetarian meals there.
4) There is a cleaning staff for dorms, which is a nice perk.
5)I thought the study abroad program was fantastic.
6)I took a few cool and unexpected classes while there.
As for the disadvantages, and why I disliked the place...well, when I was there--and I get the impression this has not changed much in the 19 years since I graduated--the student body was very homogenous. The bulk of the students were white Catholics from NJ, NY, and PA. There weren't many students who were foreign or from other ethnicities and religions. I encountered very few unique, offbeat, artsy personalities. So if you're seeking a lot of diversity, this isn't the best place for you.
It's a big party school, too, with a very active drinking culture. If you're not into drinking to oblivion or partying every weekend night, Scranton might not be a good fit for you. The university does organize fun activities for students but--at least when I was there--all roads seemed to end in grotty house parties and bars by the end of the night. Not being a drinker, I found it difficult to make friends because everyone was so focused on partying every weekend. Unfortunately the city of Scranton doesn't offer a lot of diversions within walking distance, either. It's an economically depressed city, one that's rather bleak, and it doesn't offer a lot in terms of arts and culture or even more mainstream activities like decent shops and cinemas. A good host city can be a real lifeline for a student who is unhappy with his/her university life and unfortunately this won't be the case for unhappy University of Scranton students.
Alumna Female -- Class 2000
Starting Job: customer service representative; Preparedness: D+ Reputation: F
Rate this comment:
Useless (1) (2) (3) (4) (5) Helpful
"I just graduated from U of S and
Quite Bright
Chemistry
I just graduated from U of S and it was the greatest four years of my life. There's something special about Scranton compared to other schools- such a sense of community and a desire to help others which I think is a rare find for a college campus. Here's my reviews for each category:
Academics: I guess it depends on what you went here for. If you are going for the sciences or a health-related field, the U is an excellent choice. I will be completely honest, I was challenged and it was difficult at times as a chemistry major. The U has very tough science courses. However, the professors are caring individuals as well as being geniuses in their fields. If you are non-science, the U is still a good choice but you should look at the specifics of the program to make sure it is for you. I can only offer insight here as a science major.
Social: The first two years were... well, lame. Most freshman and sophomore parties are in sketchy basements with one or two kegs. However, if you "have the connections" and know upperclassmen you can go to better parties. It depends on who you know. Once you turn 21, it is awesome here though! We have great bars here. The downtown bars include rooftop, outdoor bars to fun club-like ones. In addition, senior year the U really reaches out to the students and plans some really fun events for some "class bonding". Events like holiday formal at the downtown Hilton, Shamrockin' Eve, and senior week festivities which includes an overnight trip to a resort in the poconos. I was so pleased with every aspect of my social life here.
Campus: The campus is absolutely beautiful! The buildings are all modern, which is rare for universities. Everything is clean... no trash, smells great, lots of gardens, etc. You get to know your way around campus easily and it really does become your "home away from home".
Residence: The freshman residence halls are your typical dormitories. However, they are very close to the Denaples Center (where the dining hall is), class buildings, etc. So, freshman year you don't have to walk far to anything which is a great plus! The sophomore residence halls are very nice. I had Condron which could easily be mistaken for a 4 star hotel. The sophomore residence halls are a little further back from the central campus but still close. I lived off campus my junior/senior year so I can't give much insight into the on-campus apartments but I have had friends who lived in them and they said they are very nice.
Diversity: People often complain that there isn't much diversity here; however, Scranton is one of the most accepting community I've ever stepped foot on. I always loved how LGBT people felt so comfortable here because everyone was accepting of them. It really is a great community!Overall: I really think you can't go wrong with this school... I met my best friends here and really grew as a person. I think Scranton turned me into a responsible, caring, knowledgeable adult. I often reflect and compare my freshman year self to my senior year self and admire how much I grew as a person. Choose Scranton- you will NOT regret it!
4th Year Male -- Class 2015
Faculty Accessibility: A, Collaboration/Competitive: B
Rate this comment:
Useless (1) (2) (3) (4) (5) Helpful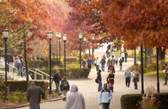 Rankings SCRANTON appears in
Similar Colleges by Safety