May 18 2014
Music - Performance
"

Great opportunities to grow musically. The teachers are caring and concerned for my progress.
3rd Year Female -- Class 2016
Perceived Campus Safety: A+, Useful Schoolwork: B
"

Do NOT go to BJU to study for

Mar 09 2014

Religion/Religious

Do NOT go to BJU to study for the ministry unless you have strong networking contacts (relatives, friends) in positions of hiring influence. There are far more churches that will NOT hire you because of your BJU diploma than will hire you. Hiring authorities that I contacted would not talk to me any further once they learned my degree was from BJU (common reason given was that BJU graduates were too divisive and BJU too extremist). Graduates I knew who had business related degrees fared better than the ministry degree graduates that I knew. I also knew several graduates with teaching degrees who had difficulties because back when I graduated, BJU was unaccredited and proud of it (consequences to the graduates be damned). Fortunately a few years ago BJU broke with the founder's admonishments and sought accreditation. Too late for me, but good for the current students.

Alumnus Male -- Class 2000

Preparedness: F Reputation: F
Jul 05 2014
Religion/Religious
As an alumnus of BJU let me state as emphatically as I can DO NOT GO TO THIS SCHOOL!!! I went there for 4 years and got my Bachelors degree, then I went to their seminary for 5 more years and earned two masters degrees. It took me that long to finally see through their smokescreen of spirituality. With the perspective that comes from being out of 'the bubble' I now realize that BJU does not teach or practice Biblical Christianity. It is instead a suppressive and degrading system of regulations imposed on students that they call 'Christianity'. I lived this, I was even forced to enforce it as a Prayer Captain and society president. My wife and I met there, worked there and earned masters degrees there and we are now embarrassed that BJU's name is on our resume. Our degrees are also not worth anything because BJU is not accredited. Their current so-called accreditation under TRACS is utterly useless and their current attempt at legitimate accreditation under SACS won't succeed - due to a long list of shortcomings. Alumni are not sending their children to BJU because of the spiritual and emotional abuse they suffered there as students and so enrollment is shrinking. Majors are being cut, faculty and staff are being downsized and there is also the little matter of the GRACE sexual abuse investigation(due out August 31st). The sexual abuse investigation against Bob Jones has made national headlines - just google it to learn more.
Also there are now numerous Facebook sites by Bob Jones University alumni dedicated to exposing what goes on there and warning potential students to NOT enroll there. Some of them are Truth Seeking Graduates of Bob Jones, Bojo.us, Do Right BJU, BJU News, etc. The problems of BJU are too numerous to encapsulate in a student review. But I hope that what I've shared here is enough to warn potential students to stay away from this place and to warn their friends to stay away also. If you attend you WILL regret it, just like my wife and I do.
Alumnus Male -- Class 2000
Preparedness: F Reputation: F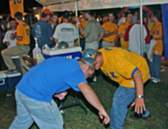 Similar Colleges by Safety