"I thought I would learn something worthwhile at
Bright
Psychology
I thought I would learn something worthwhile at Winthrop. Boy was I wrong. Professors tell you how much they hate their jobs and will not take time in or out of class to help in anyway. Waste of money. The records and registration department is a joke taking to you as if you are 3 years old and should not complain when they make an error.
2nd Year Male -- Class 2016
Campus Aesthetics: B+, Education Quality: F
Rate this comment:
Useless (1) (2) (3) (4) (5) Helpful
"As a transfer student, Winthrop is the worst
Quite Bright
Art & Design Department
As a transfer student, Winthrop is the worst school to go to. I enjoyed myself more at my past college and learned more too. I made a 3.9 GPA at my old college; however, here at WU, I am having troubles maintaining a B! The teachers here are usually unkind! I had one teacher who criticized her class very very unkindly. I have a job and the teachers her make it sound like they want you to quit your job to only focus on their class. There is no chance to advance at Winthrop, there is no opportunity. I already told a friend whom was thinking about going to Winthrop to save the troubles and go somewhere else. Winthrop is by far the worst university. Save your money, save your time. The teachers here do not care about your success and administration is a nightmare.
1st Year Female -- Class 2017
Extracurricular Activities: B, Education Quality: F
Rate this comment:
Useless (1) (2) (3) (4) (5) Helpful
"Interior design major in
Not so bright
Interior design major in Winthrop University is a bad major to choose.. spend time, money, can not take care of my kid, teachers make you feel you are a stupid... by the end,,, DON'T GO TO WINTHROP TO STUDY INTERIOR DESIGN, I really spent my time
1st Year Female -- Class 2018
University Resource Use: B+, Education Quality: F
Rate this comment:
Useless (1) (2) (3) (4) (5) Helpful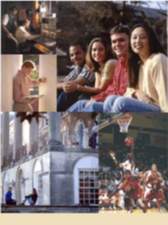 Similar Colleges by Safety