The Southwestern Assemblies of God University
Instate Tuition (2013-2014)
$17,830
Out-of-state Tuition (2013-2014)
$17,830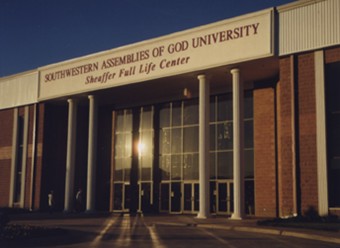 SAGU Address
SOUTHWESTERN ASSEMBLIES OF GOD UNIVERSITY
1200 SYCAMORE
WAXAHACHIE, TX 75165
General info:
(888) 937-7248
Financial aid office:
(888) 937-7248
X4730
Admissions office:
(888) 937-7248
X4670
University FAQ
University Homepage
Tuition + SAGU Housing (2013-2014)
Meals Per Week:19
Undergrad Application Fee:
$35
Grad Application Fee:
$50
Tuition Payment Plan:
Yes
Campus Housing Capacity:
1,043
Freshman Must Live on Campus: No
University Makeup (2013-2014)
# of Undergrads:
1,871
# of Grad students:
456
# of Part time:
15
Total Students:
2,327
Financial Aid
100% First time, full time students receive federal aid and the average amount is $204
43% of students receive State/Local grants and the average amount is $3,070
76% receive instiutional grants and the average institutional award is $5,879
75% receive student loans and the average amount is $6,689Special "Change Your World" scholarships are offered to new students each year. Apply today.
SAGU offers a wide variety of federal, state and institutional financial aid. To learn more, visit www.sgu.edu/finaid or email finaid@sagu.edu.
Private not-for-profit 4 year or above Institution
Master's Colleges and Universities (smaller programs)
Theological seminaries and other specialized faith-related institutions

Special Programs
SAGU's Teacher Education program recently ranked as one of the best in the state of Texas., Teacher Certifications

Admissions Requirements
Secondary School Record Required
Secondary School GPA Required
Secondary School Rank N/A
Test Scores N/A
Competencies N/A
Special Credits
HS College Credit: Yes
AP Credit: Yes
Life Experience Credit: Yes
Special Credits(other): No
Applicants Admitted
38% men vs 32% women admitted
Applicants vs Admissions (2013-2014)
Men Applicants:
969
Women Applicants:
1,088
Men Admitted:
368
Women Admitted:
349
Student Services
Library On Campus
Remedial Services
Counseling Services
Employment Services
Placement Services

Majors
• Accounting
• Ancient Studies/Civilization
• Bible/Biblical Studies
• Bilingual and Multilingual Education
• Business Administration
• Business Administration and Management
• Business/Commerce
• Cinematography and Film/Video Production
• Communication and Media Studies
• Counseling Psychology
• Counselor Education/School Counseling and Guidance Services
• Criminology
• Curriculum and Instruction
• Divinity/Ministry
• Drama and Dramatics/Theatre Arts
• Early Childhood Education and Teaching
• Education
• Educational Administration and Supervision
• Educational Leadership and Administration
• Elementary Education and Teaching
• English Language and Literature
• English/Language Arts Teacher Education
• Foreign Languages and Literatures
• General
• General Studies
• History
• Human Services
• Management and Operations
• Marketing/Marketing Management
• Mass Communication/Media Studies
• Missions/Missionary Studies and Missiology
• Multiple Levels
• Music
• Music Performance
• Music Teacher Education
• Other
• Pastoral Counseling and Specialized Ministries
• Pastoral Studies/Counseling
• Physical Education Teaching and Coaching
• Psychology
• Religious Education
• Religious/Sacred Music
• Social Sciences
• Social Studies Teacher Education
• Social Work
• Sport and Fitness Administration/Management
• Teacher Education
• Theological and Ministerial Studies
• Theology/Theological Studies
• Youth Ministry
Recently Reviewed Colleges!