Virginia Polytechnic Institute and State University
Finance
"Tech is a huge school. I am encouraging my son to attend a smaller school with smaller classes and a tighter college community.
Alumnus Male -- Class 2000
Rate this comment:
Useless (1) (2) (3) (4) (5) Helpful
"OMG- don't go here.
Quite Bright
Accounting
OMG- don't go here. This is my sophomore year and will be transferring out ASAP. Even if you love football. Its all there is to do here on the weekends. The residential dorm environment is horrible. The student conduct office that treats you like you have zero rights. They are more concern about controlling their student body then being a progressive university and developing lasting relationships with the students. Not a place you will feel welcome if your are at all liberal. Run away- try William and Mary or UVA or a private university. DON'T GO HERE. I hope I am saving someone from making a bad decision.
1st Year Female -- Class 2017
Campus Maintenance: A-, Faculty Accessibility: F
Rate this comment:
Useless (1) (2) (3) (4) (5) Helpful
Other
"Love Virginia Tech. Go Hokies!
Alumnus Male -- Class 2000
Rate this comment:
Useless (1) (2) (3) (4) (5) Helpful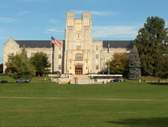 Rankings VT/VPISU appears in
Similar Colleges by Safety