Virginia Polytechnic Institute and State University
"Virginia Tech is awesome.
Quite Bright
Psychology
Virginia Tech is awesome. Nobody but yourself can keep you from having a great experience there. There are tons of student help programs, free tutors, and other kinds of help resources. If you want to do well then they will do everything they can to help you. Some of the faculty are a bit cocky or distant, but I've always enjoyed my lectures and they have a nice variety of subjects. The library is phenomenal and if you take the time to get familiar with it and it's capabilities you'll never want for information. The student health center is great, most of anything is free there, and their two fitness facilities are very nice. The on campus cafe has it's own pastry chef and other dinning halls on campus are some of the best in the country. There's a bus system that's free for student which is great, everyone rides it at some point, and it goes around campus, to the different appartment complexes, and even to the mall and Walmrt. If you're thinking about Tech I strongly urge you to visit it and take a tour. The only thing is that the biggest city around it Roanoke and that's forty-five minutes away, but the school has great sports and performing arts so it isn't quite so bad. So if you can survive without a big mall or extensive galleries for more than a couple of weeks you'll love it there. One more thing... VTech is one of two schools in the country that has a corps of cadets and civilian students. The corps people are alright, most of them are just like anybody else, except for being in really good shape and having curfews. Plus, every year at the first big snowfall there's a massive snowball fight between the corps and civies that spans about two football fields. It's lovely.
3rd Year Female -- Class 2004
Extracurricular Activities: A+, Collaboration/Competitive: C+
Rate this comment:
Useless (1) (2) (3) (4) (5) Helpful
"I'd highly recommend engineering as a first course
Quite Bright
Aerospace Engineering
I'd highly recommend engineering as a first course of study. It structures your thinking, and teaches the correct ways to solve problems. Virginia Tech is an exceptional place to do this at an inexpensive state school. I recently had my 25th reunion, and one engineering professor I had was not only still teaching, but still remembered who I was.
Alumnus Male -- Class 2000
Starting Job: Engineer; Preparedness: B- Reputation: F
Rate this comment:
Useless (1) (2) (3) (4) (5) Helpful
"Coming to Virginia Tech was one of the
Quite Bright
Psychology
Coming to Virginia Tech was one of the best choices I ever made as a young adult. At first I was hesitant about coming because of the enormous size of the school. But once I got here, I soon realized coming to Virginia Tech will be one of the biggest asset I will ever have in my resume. The atmosphere, the people, football; I love every moment of it. Its pretty sad actually, sometimes, I wish I was in school rather than home. But if I can give one advice to you all, it's that even though the school may seem incredibly large, you never really notice it because Virginia Tech has one of the most beautiful campus, a wonderful academic program, and wonderful kind people. Why would you pay 30,000 to go to a university just as good as Virginia Tech? The cost for the academic programs they have to offer here is amazing.
1st Year Male -- Class 2006
Collaboration/Competitive: A+, Faculty Accessibility: B+
Rate this comment:
Useless (1) (2) (3) (4) (5) Helpful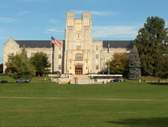 Rankings VT/VPISU appears in
Similar Colleges by Safety