Virginia Polytechnic Institute and State University
"I spent the first 3 years as an
Quite Bright
Psychology
I spent the first 3 years as an animal science major, and i have to say those first 2 years were the hardest years i've ever been through (academic wise). HOWEVER, my junior year i transferred to psychology and it was worlds better. The psych department is fantastic, the professors are all really friendly and relaxed, its the area courses that really get you. i was also a disability student and the office for students with disabilities are extremely helpful!
I will agree with the negative commenters that the majority of people here are Greek life obsessed close minded white people, so minority students BEWARE; you will encounter lots of insensitivity and some not so blatant forms of racism. But i i will say that there are students not like that, i found an amazing group of friends who are driven, open-minded, sincere and creative, those pople do exists on campus. overall i would say, do your research. i did not know this school was out in the middle of nowhere in the mountains, but it is an extremely beautiful campus with lots of outdoor activities when it is warm. I am by no means a country girl at all, and it was an adjustment, after my first year i fell in love with being here and it really does grow on you.
4th Year Female -- Class 2012
Collaboration/Competitive: A, Innovation: B-
Rate this comment:
Useless (1) (2) (3) (4) (5) Helpful
"Virginia Tech is a wonderful university tucked into
Quite Bright
History/Histories (art history/etc.)
Virginia Tech is a wonderful university tucked into the Blue Ridge Mountains. Though it's known for engineering and more science related fields, I must admit the History department is phenomenal and highly underrated. The professors are incredibly friendly and very knowledgeable; I have yet to meet a single one of which I was not a fan. The classes are small enough that most professors get to know you on a first name basis, which is wonderful for applying to grad school and finding research opportunities. The campus is beautiful with its Gothic architecture and relatively compact. Sports and the Hokies are a huge part of student life and spirit is high around campus. Greek life is evident on campus; however, everyone is really friendly and there doesn't seem to be a lot of mean hazing. Plus, they're really acceptable to non-Greeks. Most students come from NOVA, Maryland, and New Jersey, therefore they find the town of Blacksburg really boring. This school has a small downtown nightlife with local bars, such as TOTS. When the weather is warmer, hiking, tubing on the New River, and outdoor activities in general are superb. If you get involved, you'll love Blacksburg and never want to leave!
2nd Year Female -- Class 2014
Education Quality: A+, Innovation: F
Rate this comment:
Useless (1) (2) (3) (4) (5) Helpful
"PROS:
Bright
Other
PROS:
Students are on the whole very approachable. The food and health services are superb. Plenty of high quality study areas such as a fantastic library and a helpful place called the Math Empo. People respect stranger's boundaries. If you seek help, you will usually get it. Drinking is kept off campus. Long, long walks to classes will help keep you in shape.
CONS:
Academics:
Freshman and Sophomore year, you are truly just a number, maybe that's an understatement. Your teacher doesn't know you, and your are not going to get to know your classmates. 300-500 student classes are not unusual. Too often an individual class will utilize 5 or more different resources for the same material!. Because of this, one feels overwhelmed constantly, and those who succeed are the ones that game, cheat, use sites like Koofers, and strategize on what is going to be tested. There are some exceptions in Engineering courses I had taken, where wisely only one text is used, and is put on the net for easy access. Classes that took that approach I did the best in.
Faculty: Teachers range in quality from lifeless non-english speaking T.A.s to friendly professors who are bad at lecturing. You never really know what you are getting into with any individual class, quality varies wildly. Advisors are mainly there to help you through red tape and the ridiculously complex and unorganized VT website.
Student Body: Buses and classrooms are solemn. The student uniform is plain, darkish colored clothing. Where there are discussions, they sway towards the mean spirited, bad mouthing, and back stabbing. Student organizations take themselves way too seriously with complex hierarchies, unnecessary events, and long constitutions. Most people's personality seems to be the same: lost of fake smiling, vacuousness, and some sort of inner struggling. Campus appearance has a sterile, depressing, bland feel. There's still plenty of left over paranoia from the tragedy, and the fake threats that echoed for a few years later.
The campus culture is patronizing, outdated, lame, and corny. The best example would be the naming of the middle of the Student Activities Center "Break Zone". Then there's "Venture Out", Greeks everywhere, a popular!? tan salon adjacent to the Math Empo, a white pride organization, cow milking club, a Rocky Horror Picture Show Club!?, etc. Oh and this year Bill Cosby will be returning for the 17th time!, and later in the year, a professional hypnotist!If you are highly self-motivated, diligent, are absolutely sure you love studying science, and are coming into the school with a dozen or more friends, then you should be fine. Otherwise, I don't know what to advise...
2nd Year Male -- Class 2014
Campus Maintenance: A, Education Quality: F
Rate this comment:
Useless (1) (2) (3) (4) (5) Helpful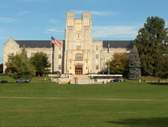 Rankings VT/VPISU appears in
Similar Colleges by Safety