Virginia Polytechnic Institute and State University
"Deciding to go to tech was the best
Quite Bright
Math
Deciding to go to tech was the best decision I ever made, but the school is not for everyone. I had to really make an effort to make friends coming from out of state. If you are not a heavy Party-er or a Christian, you might not fit in so well. Freshman level classes and core curriculum are mostly large lectures, but all of my in major classes were taught by excellent professors in classrooms smaller than 30.
4th Year Male -- Class 2010
Useful Schoolwork: A+, Individual Value: B+
Rate this comment:
Useless (1) (2) (3) (4) (5) Helpful
"I have had the worst few years of
Quite Bright
Geography and Geosciences
I have had the worst few years of my life at VT, from the moment I walked onto campus I felt unwelcome, but attended to satisfy my family and others expectations. Advisors never answer emails, or attend office hours. They work with each other and make it near impossible to conduct research on a student-professor relationship. Advisors are too busy to take time to listen without injecting their obnoxious unprofessional opinions. All I've done since I've been here is busywork and forced socialization with other students. I want my time and money back. I've wasted so much valuable time trying to learn, but have had no success in connecting with my teachers. Tuition is way too high for a degree I have no chance of getting a job with. I've tried so many times to get involved on campus, but organizations are like cliques and its hard to learn in classrooms with 200 other students. You may think your outgoing, but when your in a classroom with 280 students its impossible to ask a question without someone mocking or talking over you because there bored or gossiping. Please let my mistake be your example. There are great schools out there that will help you in your venture to learn, your hopes to research. Consider your other choices carefully.
3rd Year Female -- Class 2012
Perceived Campus Safety: A-, Education Quality: F
Rate this comment:
Useless (1) (2) (3) (4) (5) Helpful
"I came to VT in the University Studies
Super Brilliant
History/Histories (art history/etc.)
I came to VT in the University Studies program and spent much of my first year in the program before switching to Chemistry and then quickly into History. I found that my first year classes were a big step up from high school classes and the large class sizes are something that is challenging to get used to. I found that in almost all cases, if you approached faculty members, they were some of the nicest, genuine, and most helpful people that I have ever met. That being said, the burden of seeking help and faculty interaction is entirely on you. Faculty will not seek you out to see if you need help so you can get lost.
Academic work at VT is quite challenging and you can expect to spend a lot of time studying and working on assignments. You have to be self-motivated or your time at VT will be short. If you don't like to work hard, there are a lot of easier schools and easier programs.
Even though I was never in the College of Engineering, the problem-solving focus is apparent in almost all classes and did a lot to shape a very analytical mind. Although most of my coursework was in the College of Liberal Arts and Human Sciences, I don't believe that VT represents a true liberal arts experience. If you want that experience, go to a true liberal arts college. That being said, I couldn't ask to gain more from my undergraduate degree. I left VT with strong reasoning, writing, and analytical skills as well as a strong ability to find and piece together information.
It is hard to go to VT and not have school pride. School colors are everywhere, especially on gamedays! Most students spend their weekends on campus or in town. Social life is good, though it does focus on the bars and athletics. I found the culture and arts to be somewhat lacking though.VT will be the experience that you make it. If you are prepared to work hard and ask for help if you need it, the education that you get will be second to none. If that doesn't describe you, you might have a better experience someplace else.
Alumnus Male -- Class 2000
Starting Job: Residence Hall Coordinator; Preparedness: A+ Reputation: A
Rate this comment:
Useless (1) (2) (3) (4) (5) Helpful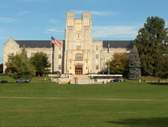 Rankings VT/VPISU appears in
Similar Colleges by Safety