The University of Wisconsin - Madison
Comments about the weather
"
... I had a roommate from Alaska who said he was moving back b/c the winters in Wisconsin were too cold ...
Read full comment
"
... I was fine but got the feeling that someone could get assaulted in an alley or small road and no one would know because the city has a very cold...
Read full comment
"
... A typical day in Madison consists of trudging through the snow in frigid temperatures to go sit in a class with 200 other spoiled white kids comp...
Read full comment
"
... The campus is beautiful in early May when the flowering crab trees are blooming and in winter where the trees are covered with snow ...
Read full comment
"
... The aspects I was not to fond of is that it was cold and raining when I was down there (not the schools fault) ...
Read full comment
Avg Number of daylight hours
12.4
Avg non-cloudy-ish sunlight hours
6.2
Avg % of day spent cloudy
49.9%
Avg % of day spent precipitating
9.6%
Minimum Temperature
-16.6F
Temperatures, Precipitation, and Sunshine on campus
Check below to read averages, minimums, and about daylight on the WISC-Madison campus.
You need to upgrade your Flash Player
During the School Year
*all schools based on a 250 day school year
Daylight
Avg Number of daylight hours
12.4 hrs
Avg % of day spent cloudy
49.9%
Avg non-cloudy-ish sunlight hours
(subtracting away average cloudiness)
6.2 hrs
Precipitation
Avg % of day spent precipitating
9.6%
Temperatures
Average Temperature
38.7F
Maximum Temperature
91.4F
Minimum Temperature
-16.6F
Windchill Minimum
-38.2F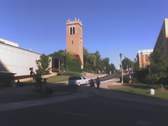 Similar Colleges by Education Quality