13 Alums took the salary survey
Augustana Alumni Salary over Time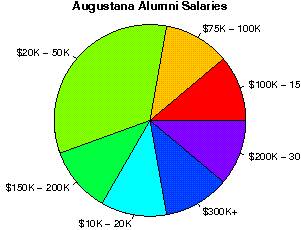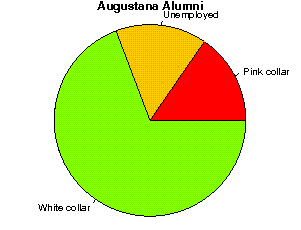 Said that Augustana contributed
| | |
| --- | --- |
| 23.08% | 75-100% to their career success |
| 46.15% | 50-75% to their career success |
| 15.38% | 25-50% to their career success |
| 15.38% | 0-25% to their career success |
Had the employment status
| | |
| --- | --- |
| 0.00% | Self Employed |
| 0.00% | Top Management |
| 69.23% | White Collar workers |
| 15.38% | Pink Collar workers |
| 0.00% | Blue Collar workers |
| 0.00% | Entry Level employees |
| 15.38% | Unemployed. |
Life Satisfaction
| | |
| --- | --- |
| 84.62% | Are satisfied with their current job. |
| 84.62% | Said things are generally going well. |
| 53.85% | Are still in the field they majored in in college. |
Reputation & Preparedness
| | |
| --- | --- |
| Help from Reputation | 5.3 |
| Preparedness for Real world | 6.5 |
Most Frequently mentioned Graduate Jobs

Coordinator (2), College (1), Administrator (1), Paraeducator (1), Assistant (1),
% went on to Graduate or Professional Ed.
69.2%
"
... On tours you will hear all about the great student groups on campus, but most are just started by people so they can put it on their resume that ...
Read full comment
"
... Augustana is looked highly upon by people and employers within the Chicagoland area-simple as that ...
Read full comment
"
... These classes literally added to my degree 30 credit hours of baggage that will never help me get a job with a future employer ...
Read full comment
"
... I am applying to graduate schools and I know that my resume that I have built as well as my professors' recommendations will be strong against ot...
Read full comment