The Albany College of Pharmacy and Health Sciences
7 Alums took the salary survey
ACPHS/APHS Alumni Salary over Time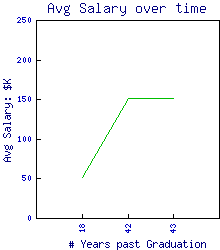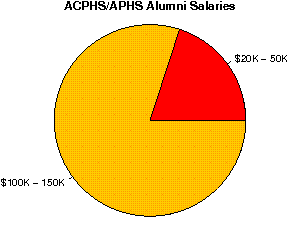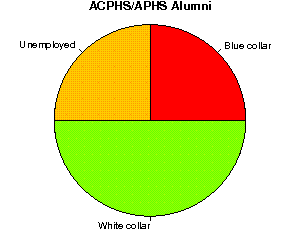 Said that ACPHS/APHS contributed
| | |
| --- | --- |
| 42.86% | 75-100% to their career success |
| 14.29% | 50-75% to their career success |
| 0.00% | 25-50% to their career success |
| 42.86% | 0-25% to their career success |
Had the employment status
| | |
| --- | --- |
| 0.00% | Self Employed |
| 0.00% | Top Management |
| 57.14% | White Collar workers |
| 0.00% | Pink Collar workers |
| 14.29% | Blue Collar workers |
| 0.00% | Entry Level employees |
| 28.57% | Unemployed. |
Life Satisfaction
| | |
| --- | --- |
| 71.43% | Are satisfied with their current job. |
| 71.43% | Said things are generally going well. |
| 71.43% | Are still in the field they majored in in college. |
Reputation & Preparedness
| | |
| --- | --- |
| Help from Reputation | 4.9 |
| Preparedness for Real world | 5.3 |
Most Frequently mentioned Graduate Jobs

Pharmacist (3), Manager (1), Pharmacy (1), Chain (1), Hospital (1),
% went on to Graduate or Professional Ed.
16.7%
"
... not only is it hard there are no more pharmacist jobs available in this state thanks to big box pharmacy, pharmacists are on unemployment lines .....
Read full comment
"
... Where else can an 18 year old untrained, unskilled high school senior enter an intensive curriculum and exit 6 years later as a Doctor of Pharma...
Read full comment
"
... They just participate at a minimal level because it looks bad if you have no extracurricular activities to list on your resume ...
Read full comment
"
... RiteAid will offer you a good salary and you will earn every penny with 13 hour/day shifts, no lunch break, minimally trained staff, and 300 scri...
Read full comment
"
... Pharmacy is a great career choice if you are willing to work hard, and have an interest in the sciences ...
Read full comment
"
... If you want to focus on your future career of pharmacy and get a good education at a small school, then ACP will be for you ...
Read full comment