10 Alums took the salary survey
Assumption Alumni Salary over Time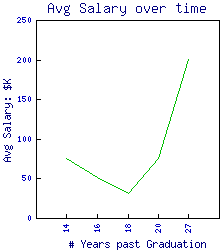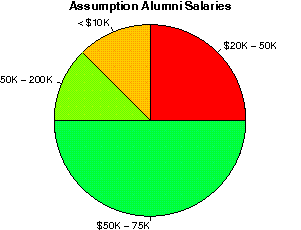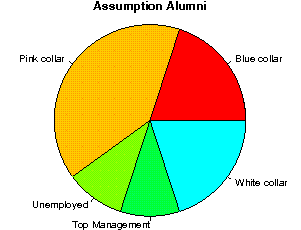 Said that Assumption contributed
| | |
| --- | --- |
| 70.00% | 75-100% to their career success |
| 30.00% | 50-75% to their career success |
| 0.00% | 25-50% to their career success |
| 0.00% | 0-25% to their career success |
Had the employment status
| | |
| --- | --- |
| 0.00% | Self Employed |
| 10.00% | Top Management |
| 20.00% | White Collar workers |
| 40.00% | Pink Collar workers |
| 20.00% | Blue Collar workers |
| 0.00% | Entry Level employees |
| 10.00% | Unemployed. |
Life Satisfaction
| | |
| --- | --- |
| 90.00% | Are satisfied with their current job. |
| 90.00% | Said things are generally going well. |
| 70.00% | Are still in the field they majored in in college. |
Reputation & Preparedness
| | |
| --- | --- |
| Help from Reputation | 7.7 |
| Preparedness for Real world | 8.6 |
Most Frequently mentioned Graduate Jobs

Marketing (2), Assurance (2), Enginner (2), Software (2), Quality (2),
% went on to Graduate or Professional Ed.
40%
"
... I was able to find a prestigious internship right after graduation through the Career Center, which ultimately led to my current job, which I am ...
Read full comment
"
... Because when it comes down to it, unless you are trying to work or go to graduate school in the immediate vicinity of your undergrad location, em...
Read full comment
"
... I had a friend hired in November of his senior year with a salary of 47K ...
Read full comment