Appalachian State University
23 Alums took the salary survey
ASU Alumni Salary over Time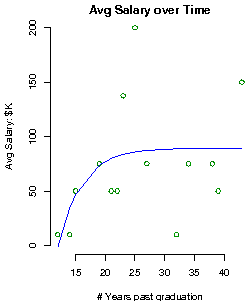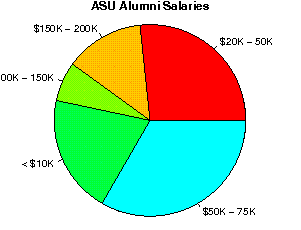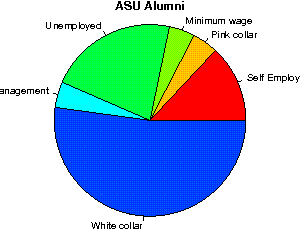 Said that ASU contributed
| | |
| --- | --- |
| 39.13% | 75-100% to their career success |
| 30.43% | 50-75% to their career success |
| 13.04% | 25-50% to their career success |
| 17.39% | 0-25% to their career success |
Had the employment status
| | |
| --- | --- |
| 13.04% | Self Employed |
| 4.35% | Top Management |
| 52.17% | White Collar workers |
| 4.35% | Pink Collar workers |
| 0.00% | Blue Collar workers |
| 4.35% | Entry Level employees |
| 21.74% | Unemployed. |
Life Satisfaction
| | |
| --- | --- |
| 69.57% | Are satisfied with their current job. |
| 78.26% | Said things are generally going well. |
| 56.52% | Are still in the field they majored in in college. |
Reputation & Preparedness
| | |
| --- | --- |
| Help from Reputation | 6 |
| Preparedness for Real world | 6.5 |
Most Frequently mentioned Graduate Jobs

Manager (5), Cards (3), Hallmark (3), Teller (2), Programmer (2),
% went on to Graduate or Professional Ed.
50%
"
... I would highly recommend this school if you are seeking a career in business or education ...
Read full comment
"
... That means doing a tiny bit of community service, gathering any kind of work experience, and getting some kind of internship to ensure that you c...
Read full comment
"
... I applied for the MBA program with the hope that if i got my mba I would have an extra edge over the competition as far as career opportunities ...
Read full comment
"
... I have come across some very interesting job opportunities and now live and work in Europe ...
Read full comment