Arkansas State University
17 Alums took the salary survey
ASU Alumni Salary over Time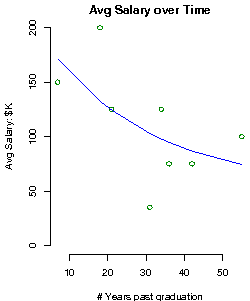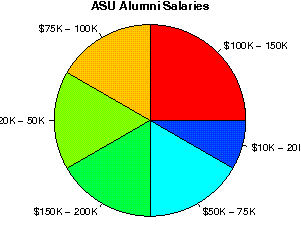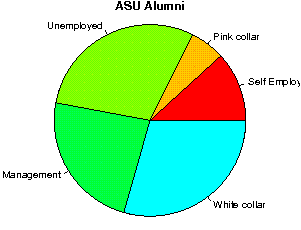 Said that ASU contributed
| | |
| --- | --- |
| 35.29% | 75-100% to their career success |
| 23.53% | 50-75% to their career success |
| 11.76% | 25-50% to their career success |
| 29.41% | 0-25% to their career success |
Had the employment status
| | |
| --- | --- |
| 11.76% | Self Employed |
| 23.53% | Top Management |
| 29.41% | White Collar workers |
| 5.88% | Pink Collar workers |
| 0.00% | Blue Collar workers |
| 0.00% | Entry Level employees |
| 29.41% | Unemployed. |
Life Satisfaction
| | |
| --- | --- |
| 82.35% | Are satisfied with their current job. |
| 82.35% | Said things are generally going well. |
| 58.82% | Are still in the field they majored in in college. |
Reputation & Preparedness
| | |
| --- | --- |
| Help from Reputation | 5.7 |
| Preparedness for Real world | 6.9 |
Most Frequently mentioned Graduate Jobs

In (7), Teacher (5), Attorney (4), Engineer (2), Process (2),
% went on to Graduate or Professional Ed.
41.2%
"
... They don't let students know what life is like in the 'real world' and the classes all assume that students want to spend the rest of their live...
Read full comment
"
... I think students should work, volunteer, or shadow several different types of careers before they choose a major ...
Read full comment
"
... They have all these programs that get you ready for applying and interviewing, and building your resume ...
Read full comment
"
... Most of the instructors who make a career at ASU are about as lively and helpful as rocks, and there are never enough instructors or classrooms ....
Read full comment
"
... If you make it through this program, you are definitely ready for the real world ...
Read full comment