24 Alums took the salary survey
Berea Alumni Salary over Time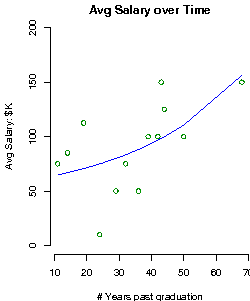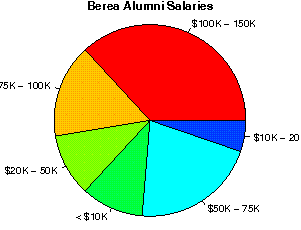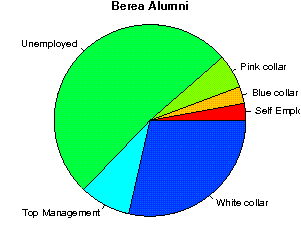 Said that Berea contributed
| | |
| --- | --- |
| 33.33% | 75-100% to their career success |
| 20.83% | 50-75% to their career success |
| 8.33% | 25-50% to their career success |
| 37.50% | 0-25% to their career success |
Had the employment status
| | |
| --- | --- |
| 4.17% | Self Employed |
| 12.50% | Top Management |
| 20.83% | White Collar workers |
| 8.33% | Pink Collar workers |
| 4.17% | Blue Collar workers |
| 0.00% | Entry Level employees |
| 50.00% | Unemployed. |
Life Satisfaction
| | |
| --- | --- |
| 62.50% | Are satisfied with their current job. |
| 62.50% | Said things are generally going well. |
| 45.83% | Are still in the field they majored in in college. |
Reputation & Preparedness
| | |
| --- | --- |
| Help from Reputation | 5.2 |
| Preparedness for Real world | 5.6 |
Most Frequently mentioned Graduate Jobs

Teacher (5), Manager (4), Sales (4), Engineer (4), Associate (4),
% went on to Graduate or Professional Ed.
29.2%
"
... Everyone has to work at least 10 hours a week which is nice for the money and resume but some jobs aren't so good and can conflict with class wo...
Read full comment
"
... Employers don't need as many Comm grads as there are graduating ...
Read full comment
"
... Be sure to research the average starting salary from this school compared to the nation average ...
Read full comment
"
... It makes sense to kick someone out of the college for repeatedly doing poorly, having weapons on campus, selling hard drugs on campus, or doing ...
Read full comment
"
... My children won't be able to attend because of my salary, but that leaves room for two Appalachian students with high potential ...
Read full comment
"
... All I can say is that if you are bright and are looking for a career in industry or to make money by getting a job, or that is your first priority...
Read full comment
Recently Reviewed Colleges!