19 Alums took the salary survey
Bucknell Alumni Salary over Time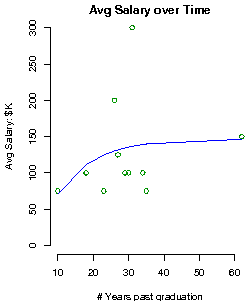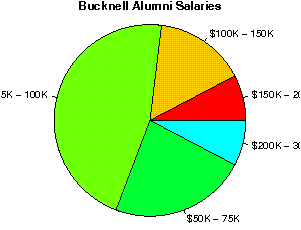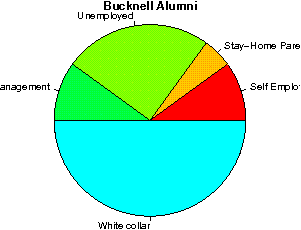 Said that Bucknell contributed
| | |
| --- | --- |
| 21.05% | 75-100% to their career success |
| 42.11% | 50-75% to their career success |
| 15.79% | 25-50% to their career success |
| 21.05% | 0-25% to their career success |
Had the employment status
| | |
| --- | --- |
| 10.53% | Self Employed |
| 10.53% | Top Management |
| 52.63% | White Collar workers |
| 0.00% | Pink Collar workers |
| 0.00% | Blue Collar workers |
| 0.00% | Entry Level employees |
| 21.05% | Unemployed. |
Life Satisfaction
| | |
| --- | --- |
| 78.95% | Are satisfied with their current job. |
| 78.95% | Said things are generally going well. |
| 57.89% | Are still in the field they majored in in college. |
Reputation & Preparedness
| | |
| --- | --- |
| Help from Reputation | 6.5 |
| Preparedness for Real world | 6.8 |
Most Frequently mentioned Graduate Jobs

Manager (4), Director (3), Engineer (3), Attorney (3), Project (3),
% went on to Graduate or Professional Ed.
47.4%
"
... I will say that the name "Bucknell" has helped me in my career ...
Read full comment
"
... It has so much to offer in the way of career advice, study abroad programs, courses, professors, social activities, and campus activities ...
Read full comment
"
... I think Bucknell trained me remarkably well for the career I am now pursuing ...
Read full comment
"
... Ok, so although the student body a bit pampered, has too many greek organizations, and the surrounding area mostly fields, but so the campus is pr...
Read full comment
"
... My advice to engineering and science students is to get the broadest distribution of undergraduate courses, including liberal arts courses, in o...
Read full comment