Concordia University - Irvine
12 Alums took the salary survey
CUI/Concordia-Irvine Alumni Salary over Time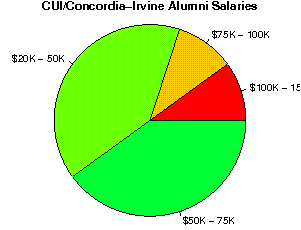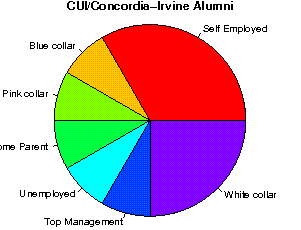 Said that CUI/Concordia-Irvine contributed
| | |
| --- | --- |
| 75.00% | 75-100% to their career success |
| 16.67% | 50-75% to their career success |
| 0.00% | 25-50% to their career success |
| 8.33% | 0-25% to their career success |
Had the employment status
| | |
| --- | --- |
| 33.33% | Self Employed |
| 8.33% | Top Management |
| 25.00% | White Collar workers |
| 8.33% | Pink Collar workers |
| 8.33% | Blue Collar workers |
| 0.00% | Entry Level employees |
| 8.33% | Unemployed. |
Life Satisfaction
| | |
| --- | --- |
| 100.00% | Are satisfied with their current job. |
| 91.67% | Said things are generally going well. |
| 83.33% | Are still in the field they majored in in college. |
Reputation & Preparedness
| | |
| --- | --- |
| Help from Reputation | 6.8 |
| Preparedness for Real world | 7.9 |
Most Frequently mentioned Graduate Jobs

Director (3), Manager (3), Assistant (2), Library (2), Interventionist (2),
% went on to Graduate or Professional Ed.
58.3%
"
... The relationships that were formed in my time there helped me in making decisions about my future career ...
Read full comment
"
... I have taken 3 classes at a JC over the course of my college career and honestly prefer the way the JC helps me with what I need to do rather tha...
Read full comment
"
... They want you to be prepared for a successful career and a successful life (family, community ...
Read full comment
"
... Through the learning I received, I have been able to realize my career and keep it, in a tough economy ...
Read full comment