California Maritime Academy
5 Alums took the salary survey
CSUM/CMA Alumni Salary over Time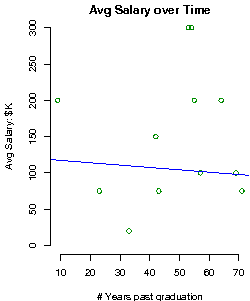 Said that CSUM/CMA contributed
| | |
| --- | --- |
| 40.00% | 75-100% to their career success |
| 0.00% | 50-75% to their career success |
| 0.00% | 25-50% to their career success |
| 60.00% | 0-25% to their career success |
Had the employment status
| | |
| --- | --- |
| 20.00% | Self Employed |
| 20.00% | Top Management |
| 40.00% | White Collar workers |
| 0.00% | Pink Collar workers |
| 0.00% | Blue Collar workers |
| 0.00% | Entry Level employees |
| 20.00% | Unemployed. |
Life Satisfaction
| | |
| --- | --- |
| 60.00% | Are satisfied with their current job. |
| 60.00% | Said things are generally going well. |
| 20.00% | Are still in the field they majored in in college. |
Reputation & Preparedness
| | |
| --- | --- |
| Help from Reputation | 5.2 |
| Preparedness for Real world | 4.4 |
Most Frequently mentioned Graduate Jobs

Apl (1), Ships (1), Master (1), Ratings (1), Deck (1),
% went on to Graduate or Professional Ed.
20%
"
... I have never regretted it, I would go back again, and my career is where it is today because of the education and training I received there ...
Read full comment
"
... The diversity is none existent, so when you see the statistics about the average salary graduates make just think about how the school is ranked...
Read full comment
"
... Food is horrible with no hope of living off campus and not much help if you want to remain in a landbased career ...
Read full comment