50 Alums took the salary survey
Colgate Alumni Salary over Time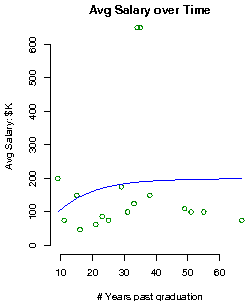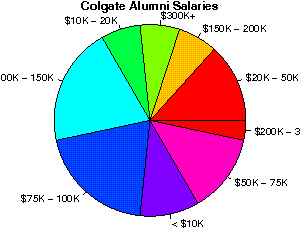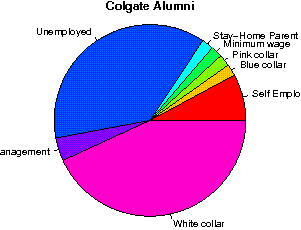 Said that Colgate contributed
| | |
| --- | --- |
| 36.00% | 75-100% to their career success |
| 24.00% | 50-75% to their career success |
| 12.00% | 25-50% to their career success |
| 28.00% | 0-25% to their career success |
Had the employment status
| | |
| --- | --- |
| 8.00% | Self Employed |
| 4.00% | Top Management |
| 42.00% | White Collar workers |
| 2.00% | Pink Collar workers |
| 2.00% | Blue Collar workers |
| 2.00% | Entry Level employees |
| 38.00% | Unemployed. |
Life Satisfaction
| | |
| --- | --- |
| 74.00% | Are satisfied with their current job. |
| 80.00% | Said things are generally going well. |
| 46.00% | Are still in the field they majored in in college. |
Reputation & Preparedness
| | |
| --- | --- |
| Help from Reputation | 6.9 |
| Preparedness for Real world | 6.6 |
Most Frequently mentioned Graduate Jobs

Teacher (7), Assistant (5), Analyst (4), Associate (4), Attorney (3),
% went on to Graduate or Professional Ed.
60.4%
"
... Colgate prepares its students for successful careers, and its alumni/ae are its invaluable resource ...
Read full comment
"
... Additionally, (my) classes and professors both expect and demand a lot in an effort to prepare me well for the real world ...
Read full comment
"
... My time at Colgate has had a profound impact on me, my career, and my future ties as an alumnus ...
Read full comment
"
... THE END RESULT MEANS, IN THIS AGE OF HIGH UNEMPLOYMENT AND EQUALLY DESPERATE HIGH LEVELS OF UNDEREMPLOYMENT, COLGATE GRADS GET CHALLENGING, WELL...
Read full comment