California State University - Chico
13 Alums took the salary survey
CSU/CalState-Chico Alumni Salary over Time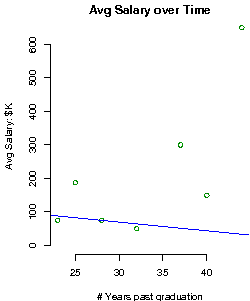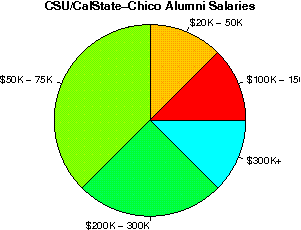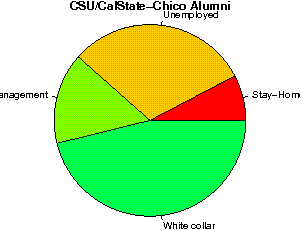 Said that CSU/CalState-Chico contributed
| | |
| --- | --- |
| 30.77% | 75-100% to their career success |
| 30.77% | 50-75% to their career success |
| 15.38% | 25-50% to their career success |
| 23.08% | 0-25% to their career success |
Had the employment status
| | |
| --- | --- |
| 0.00% | Self Employed |
| 15.38% | Top Management |
| 46.15% | White Collar workers |
| 0.00% | Pink Collar workers |
| 0.00% | Blue Collar workers |
| 0.00% | Entry Level employees |
| 30.77% | Unemployed. |
Life Satisfaction
| | |
| --- | --- |
| 76.92% | Are satisfied with their current job. |
| 76.92% | Said things are generally going well. |
| 53.85% | Are still in the field they majored in in college. |
Reputation & Preparedness
| | |
| --- | --- |
| Help from Reputation | 4.4 |
| Preparedness for Real world | 7.1 |
Most Frequently mentioned Graduate Jobs

Manager (7), Director (5), Audit (2), Programmer (2), Assistant (2),
% went on to Graduate or Professional Ed.
46.2%
"
... Depending on how you look at it, you could see it as prep for the real world, where breaking into music composing is more like breaking into act...
Read full comment
"
... The School of Business's curriculum is outdated and offers very little knowledge in management that is applicable in the real world ...
Read full comment
"
... On the opposite side though, for every easy class Ive had, Ive will have five that are intensely interesting and I feel will help me in my future...
Read full comment
"
... Outstanding preparation in computer science and business that has been very helpful in my career ...
Read full comment