California State University - Los Angeles
14 Alums took the salary survey
CalState-Los Angeles Alumni Salary over Time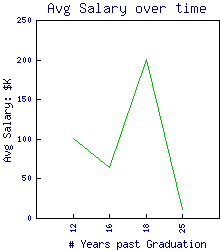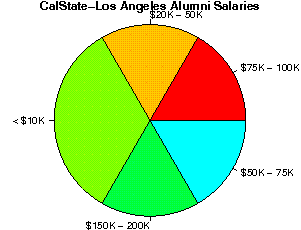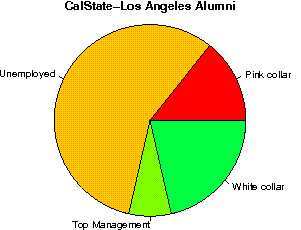 Said that CalState-Los Angeles contributed
| | |
| --- | --- |
| 14.29% | 75-100% to their career success |
| 7.14% | 50-75% to their career success |
| 28.57% | 25-50% to their career success |
| 50.00% | 0-25% to their career success |
Had the employment status
| | |
| --- | --- |
| 0.00% | Self Employed |
| 7.14% | Top Management |
| 21.43% | White Collar workers |
| 14.29% | Pink Collar workers |
| 0.00% | Blue Collar workers |
| 0.00% | Entry Level employees |
| 57.14% | Unemployed. |
Life Satisfaction
| | |
| --- | --- |
| 28.57% | Are satisfied with their current job. |
| 42.86% | Said things are generally going well. |
| 28.57% | Are still in the field they majored in in college. |
Reputation & Preparedness
| | |
| --- | --- |
| Help from Reputation | 3.2 |
| Preparedness for Real world | 4.1 |
Most Frequently mentioned Graduate Jobs

Orchestra (2), Musician (2), Tutor (1), University (1), Unemployed (1),
% went on to Graduate or Professional Ed.
41.7%
"
... I started at CSULA as a post-baccalaureate student looking for a career change ...
Read full comment
"
... This school is underrated, it provides a vast amount of resources for future careers or getting into the graduate school of your choice ...
Read full comment
"
... Only employers with stereo-typed mentality, and narrow-minded prospective will consider college papers for employment verification, and this...
Read full comment
"
... All in all, I would consider coming here for grad school just because I have been here and it is familiar too me, but CSULA could have made a...
Read full comment
"
... Because they become the people in the real world who you hate ...
Read full comment
"
... I feel that the education offered at this school does not equip me with the ammunition and knowledge to stay competitive on my career path ...
Read full comment