The Catholic University of America
16 Alums took the salary survey
CUA Alumni Salary over Time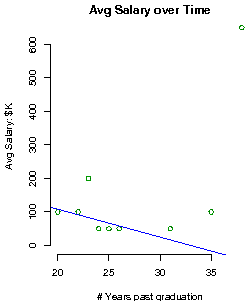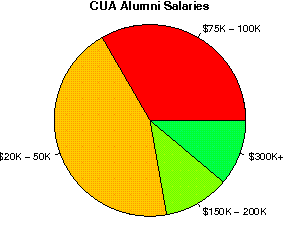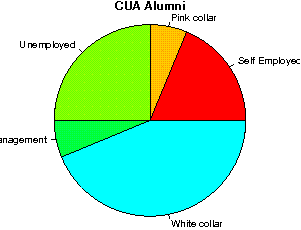 Said that CUA contributed
| | |
| --- | --- |
| 6.25% | 75-100% to their career success |
| 43.75% | 50-75% to their career success |
| 6.25% | 25-50% to their career success |
| 43.75% | 0-25% to their career success |
Had the employment status
| | |
| --- | --- |
| 18.75% | Self Employed |
| 6.25% | Top Management |
| 43.75% | White Collar workers |
| 6.25% | Pink Collar workers |
| 0.00% | Blue Collar workers |
| 0.00% | Entry Level employees |
| 25.00% | Unemployed. |
Life Satisfaction
| | |
| --- | --- |
| 56.25% | Are satisfied with their current job. |
| 68.75% | Said things are generally going well. |
| 50.00% | Are still in the field they majored in in college. |
Reputation & Preparedness
| | |
| --- | --- |
| Help from Reputation | 4.6 |
| Preparedness for Real world | 4.3 |
Most Frequently mentioned Graduate Jobs

Engineer (3), Communications (3), Associate (2), Professional (2), Structural (2),
% went on to Graduate or Professional Ed.
33.3%
"
... And I would generally be willing to live and let live when it comes to how other people choose to spend their college careers ...
Read full comment
"
... We rarely had masterclasses with professionals in the field which i feel are essential to you'r learning and career development in a Music Progra...
Read full comment
"
... Catholic University has wonderful people, good atmosphere and some of the brightest people who have time to talk to you, that is to say everyone i...
Read full comment
"
... The lower division of education classes are usually pretty packed with students, but the high expectations for future educators (which is a good...
Read full comment
"
... However, people, employers, your bosses and ultimately your clients and students realize that you are an ethical person with good habits and rea...
Read full comment
"
... If you want to pursue a career in Nursing, I highly recommend looking elsewhere ...
Read full comment
"
... Stay on the good side of the faculty, put up with their rudeness and intolerance and make sure that you will "add to their resume" (the EXACT wor...
Read full comment
"
... Could receieved benefit from more hands on real world experience earlier on in the program, maybe a bit more research opportunites also, but all...
Read full comment