30 Alums took the salary survey
Dartmouth Alumni Salary over Time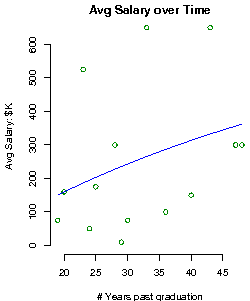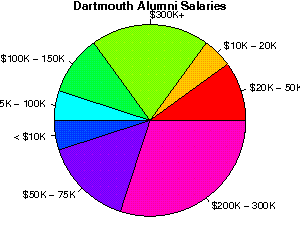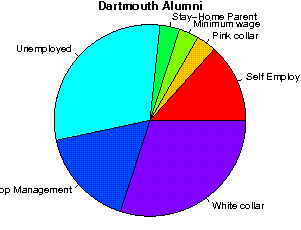 Said that Dartmouth contributed
| | |
| --- | --- |
| 53.33% | 75-100% to their career success |
| 16.67% | 50-75% to their career success |
| 6.67% | 25-50% to their career success |
| 23.33% | 0-25% to their career success |
Had the employment status
| | |
| --- | --- |
| 13.33% | Self Employed |
| 16.67% | Top Management |
| 30.00% | White Collar workers |
| 3.33% | Pink Collar workers |
| 0.00% | Blue Collar workers |
| 3.33% | Entry Level employees |
| 30.00% | Unemployed. |
Life Satisfaction
| | |
| --- | --- |
| 76.67% | Are satisfied with their current job. |
| 76.67% | Said things are generally going well. |
| 50.00% | Are still in the field they majored in in college. |
Reputation & Preparedness
| | |
| --- | --- |
| Help from Reputation | 7.7 |
| Preparedness for Real world | 7.3 |
Most Frequently mentioned Graduate Jobs

Associate (8), Manager (6), Investment (3), Analyst (3), Fellow (3),
% went on to Graduate or Professional Ed.
65.5%
"
... This wouldn't bother me *nearly* as much if the people making the employment decisions didn't have the same kind of mentality ...
Read full comment
"
... They come back every year for Homecoming, come out for athletic games held in their cities, help students get internships through the Alumni Car...
Read full comment
"
... Dartmouth is simply the best possible preparation for the real world ...
Read full comment
"
... I came from a school where people padded their resumes with a crazy list of ec's that they were never really dedicated to ...
Read full comment
"
... I signed with the Italian team Udinese, before transferring to Holland, and then ultimately to the German club VfB Stuttgart and finished out the...
Read full comment