28 Alums took the salary survey
Duke Alumni Salary over Time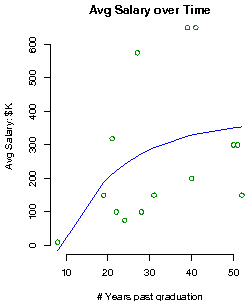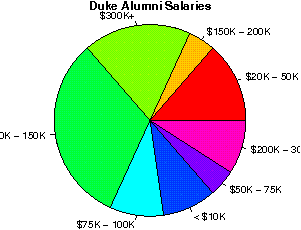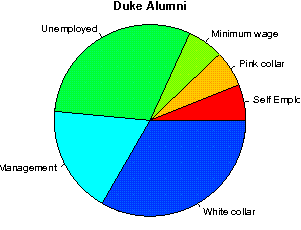 Said that Duke contributed
| | |
| --- | --- |
| 32.14% | 75-100% to their career success |
| 25.00% | 50-75% to their career success |
| 17.86% | 25-50% to their career success |
| 25.00% | 0-25% to their career success |
Had the employment status
| | |
| --- | --- |
| 7.14% | Self Employed |
| 21.43% | Top Management |
| 39.29% | White Collar workers |
| 7.14% | Pink Collar workers |
| 0.00% | Blue Collar workers |
| 0.00% | Entry Level employees |
| 25.00% | Unemployed. |
Life Satisfaction
| | |
| --- | --- |
| 64.29% | Are satisfied with their current job. |
| 71.43% | Said things are generally going well. |
| 57.14% | Are still in the field they majored in in college. |
Reputation & Preparedness
| | |
| --- | --- |
| Help from Reputation | 6.9 |
| Preparedness for Real world | 6.3 |
Most Frequently mentioned Graduate Jobs

Manager (5), Professor (4), Executive (3), Assistant (3), Corporate (3),
% went on to Graduate or Professional Ed.
52.2%
"
... The education is lackluster, you might as well go to a state school unless you want to be able to put Duke on your resume ...
Read full comment
"
... The only person that I might say to look elsewhere is somebody who is really artsy/hippie type and wants to focus on that as a career ...
Read full comment
"
... Only once did an advisor mention a particular career, and even then, it was just a suggestion I check it out ...
Read full comment
"
... I have heard that career placement is excellent and graduate school placement even better ...
Read full comment
"
... The Duke experience for the most part is an on-campus experience isolated from the outside "real world", so students feel safe to explore and hav...
Read full comment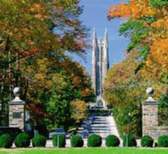 Similar Colleges by Education Quality