8 Alums took the salary survey
Elizabethtown Alumni Salary over Time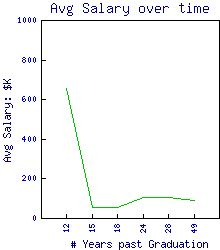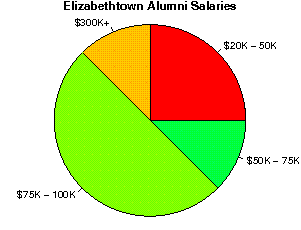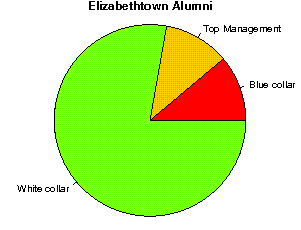 Said that Elizabethtown contributed
| | |
| --- | --- |
| 12.50% | 75-100% to their career success |
| 62.50% | 50-75% to their career success |
| 0.00% | 25-50% to their career success |
| 25.00% | 0-25% to their career success |
Had the employment status
| | |
| --- | --- |
| 0.00% | Self Employed |
| 12.50% | Top Management |
| 75.00% | White Collar workers |
| 0.00% | Pink Collar workers |
| 12.50% | Blue Collar workers |
| 0.00% | Entry Level employees |
| 0.00% | Unemployed. |
Life Satisfaction
| | |
| --- | --- |
| 100.00% | Are satisfied with their current job. |
| 100.00% | Said things are generally going well. |
| 87.50% | Are still in the field they majored in in college. |
Reputation & Preparedness
| | |
| --- | --- |
| Help from Reputation | 5.9 |
| Preparedness for Real world | 7 |
Most Frequently mentioned Graduate Jobs

Intern (2), Director (2), Teacher (2), Manager (2), Food (1),
% went on to Graduate or Professional Ed.
25%
"
... I do feel that going out into schools each year somewhat helped prepare me for my career as a teacher, but my classroom courses were basically a ...
Read full comment
"
... I learned the business knowledge while also unknowingly developing my soft skills needed for a successful career ...
Read full comment
"
... The worst thing about Etown is the incompetence of many of the staff working in offices such as residence life, campus security, career services...
Read full comment