Eugene Lang College The New School for Liberal Arts
5 Alums took the salary survey
ELCNSFLA Alumni Salary over Time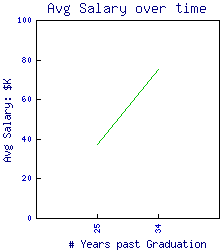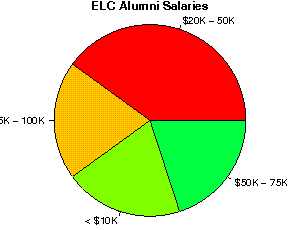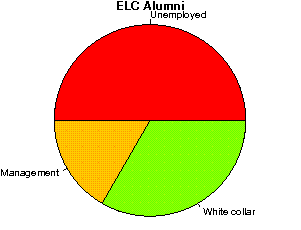 Said that ELCNSFLA contributed
| | |
| --- | --- |
| 0.00% | 75-100% to their career success |
| 0.00% | 50-75% to their career success |
| 40.00% | 25-50% to their career success |
| 60.00% | 0-25% to their career success |
Had the employment status
| | |
| --- | --- |
| 0.00% | Self Employed |
| 20.00% | Top Management |
| 40.00% | White Collar workers |
| 0.00% | Pink Collar workers |
| 0.00% | Blue Collar workers |
| 0.00% | Entry Level employees |
| 40.00% | Unemployed. |
Life Satisfaction
| | |
| --- | --- |
| 20.00% | Are satisfied with their current job. |
| 20.00% | Said things are generally going well. |
| 20.00% | Are still in the field they majored in in college. |
Reputation & Preparedness
| | |
| --- | --- |
| Help from Reputation | 1 |
| Preparedness for Real world | 1 |
Most Frequently mentioned Graduate Jobs

Marketing (4), Profit (2), Non (2), Coordinator (2), Secretary (2),
% went on to Graduate or Professional Ed.
40%
"
... Luckily, after you've been out in the real world for awhile, nobody cares where you attended and you can advance on your own merits ...
Read full comment
"
... It is a very intensive school in terms of reading, writing and art, with a ton of opportunities for volunteering, social and political action, in...
Read full comment
"
... If you are looking for a career in writing, psychology, philosophy, cultural studies, or any other liberal art and at the same time want to c...
Read full comment
"
... I am majoring in Writing, particularly Journalism, and the well-connected people in career services have helped me land internships at top notch ...
Read full comment
"
... It's filled with rich SJW students who know nothing about the real world ...
Read full comment
"
... I've been pushed out of my comfort zone and learned not just about the content of psychology, but about what it's like to be in the field of psy...
Read full comment