Franklin Pierce University
16 Alums took the salary survey
FPU Alumni Salary over Time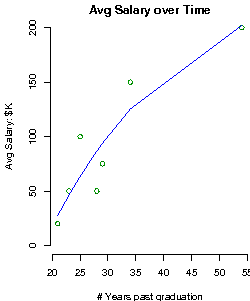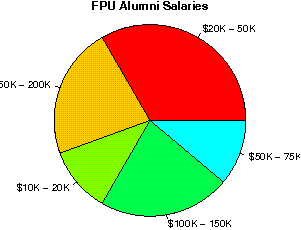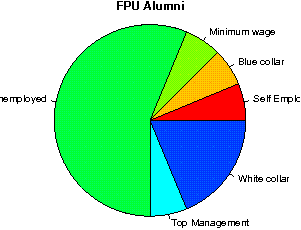 Said that FPU contributed
| | |
| --- | --- |
| 18.75% | 75-100% to their career success |
| 37.50% | 50-75% to their career success |
| 12.50% | 25-50% to their career success |
| 31.25% | 0-25% to their career success |
Had the employment status
| | |
| --- | --- |
| 6.25% | Self Employed |
| 6.25% | Top Management |
| 18.75% | White Collar workers |
| 0.00% | Pink Collar workers |
| 6.25% | Blue Collar workers |
| 6.25% | Entry Level employees |
| 56.25% | Unemployed. |
Life Satisfaction
| | |
| --- | --- |
| 50.00% | Are satisfied with their current job. |
| 62.50% | Said things are generally going well. |
| 31.25% | Are still in the field they majored in in college. |
Reputation & Preparedness
| | |
| --- | --- |
| Help from Reputation | 4.3 |
| Preparedness for Real world | 4.1 |
Most Frequently mentioned Graduate Jobs

Manager (10), Analyst (3), Trainee (3), Director (3), Assistant (3),
% went on to Graduate or Professional Ed.
31.3%
"
... Soon, the real world will hit and realization of your degree will be your wake up call ...
Read full comment
"
... The cost for someone who came from a low-income environment even with today's salary is still overwhelming 80k in loans for a four year degree i...
Read full comment
"
... alright, the good is that the teachers will help you and career service helps you get a job ,plus the views are nice ...
Read full comment
"
... Also ask about other departments admissions and career services are the only departments that are helpful and nice ...
Read full comment