14 Alums took the salary survey
GSU Alumni Salary over Time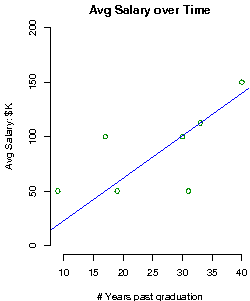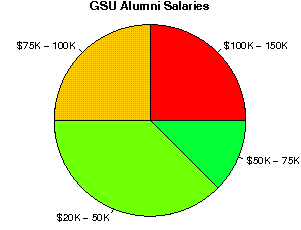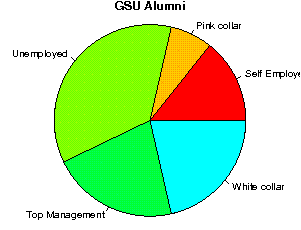 Said that GSU contributed
| | |
| --- | --- |
| 21.43% | 75-100% to their career success |
| 28.57% | 50-75% to their career success |
| 14.29% | 25-50% to their career success |
| 35.71% | 0-25% to their career success |
Had the employment status
| | |
| --- | --- |
| 14.29% | Self Employed |
| 21.43% | Top Management |
| 21.43% | White Collar workers |
| 7.14% | Pink Collar workers |
| 0.00% | Blue Collar workers |
| 0.00% | Entry Level employees |
| 35.71% | Unemployed. |
Life Satisfaction
| | |
| --- | --- |
| 57.14% | Are satisfied with their current job. |
| 57.14% | Said things are generally going well. |
| 35.71% | Are still in the field they majored in in college. |
Reputation & Preparedness
| | |
| --- | --- |
| Help from Reputation | 5.3 |
| Preparedness for Real world | 5.1 |
Most Frequently mentioned Graduate Jobs

Manager (3), Intern (3), Officer (2), Coordinator (2), Billing (2),
% went on to Graduate or Professional Ed.
8.3%
"
... I'm nearly graduated, learning or retaining nearly nothing useful for the real world ...
Read full comment
"
... You do lose some of the care-free college spirit that you get on a campus like GT or UGA, but you do gain real world experience that I think pay...
Read full comment
"
... most students commute or are older people who are coming back to school to find a new career ...
Read full comment
"
... I think that getting a great job with a degree from GSU would be a problem due to the low prestige and low esteem its held in by top employers ...
Read full comment
"
... The professors were helpful, they helped me get employment in the school my last 1 1/2 years ...
Read full comment