Governors State University
16 Alums took the salary survey
GSU Alumni Salary over Time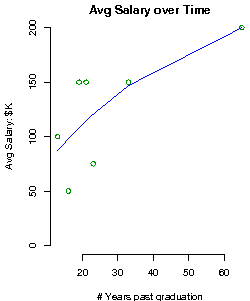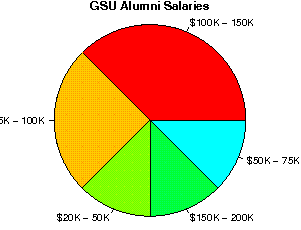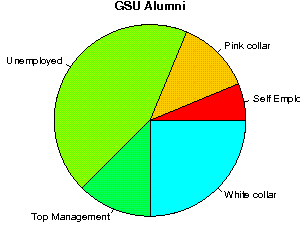 Said that GSU contributed
| | |
| --- | --- |
| 6.25% | 75-100% to their career success |
| 18.75% | 50-75% to their career success |
| 6.25% | 25-50% to their career success |
| 68.75% | 0-25% to their career success |
Had the employment status
| | |
| --- | --- |
| 6.25% | Self Employed |
| 12.50% | Top Management |
| 25.00% | White Collar workers |
| 12.50% | Pink Collar workers |
| 0.00% | Blue Collar workers |
| 0.00% | Entry Level employees |
| 43.75% | Unemployed. |
Life Satisfaction
| | |
| --- | --- |
| 75.00% | Are satisfied with their current job. |
| 56.25% | Said things are generally going well. |
| 25.00% | Are still in the field they majored in in college. |
Reputation & Preparedness
| | |
| --- | --- |
| Help from Reputation | 3.4 |
| Preparedness for Real world | 4.1 |
Most Frequently mentioned Graduate Jobs

Analyst (6), Cost (2), Technical (2), Support (2), Programmer (2),
% went on to Graduate or Professional Ed.
50%
"
... What I found was very helpful and attentive staff and faculty, a cirriculum that was challenging but not impossible, and information that is com...
Read full comment
"
... This is a school for serious students who want to acquire skills for "real world" challanges ...
Read full comment
"
... I have gone on to get an MBA and have had a long and successful career thanks to the foundation set at Governors State ...
Read full comment
"
... The difference between the two, the latter actually wants to pursue a career in psychology, has research interests ...
Read full comment
"
... Advance Courses should truly reflect real world practices such as using JUNIT to testing your Java program ...
Read full comment
"
... There's a reason graduates cannot find jobs in the industry after graduating from GSU--employer's have never heard of this university ...
Read full comment
"
... GSU is a nice school that does offer a lot of variety in course formatting and for the individuals who are challenged by other factors from life s...
Read full comment