27 Alums took the salary survey
Hamilton Alumni Salary over Time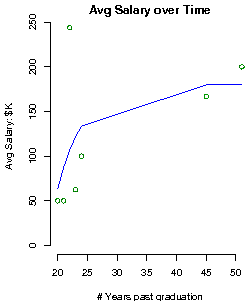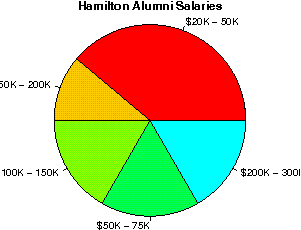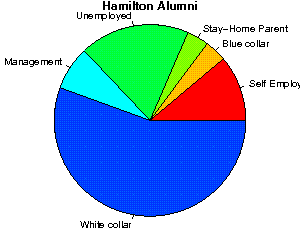 Said that Hamilton contributed
| | |
| --- | --- |
| 29.63% | 75-100% to their career success |
| 29.63% | 50-75% to their career success |
| 7.41% | 25-50% to their career success |
| 33.33% | 0-25% to their career success |
Had the employment status
| | |
| --- | --- |
| 11.11% | Self Employed |
| 7.41% | Top Management |
| 55.56% | White Collar workers |
| 0.00% | Pink Collar workers |
| 3.70% | Blue Collar workers |
| 0.00% | Entry Level employees |
| 18.52% | Unemployed. |
Life Satisfaction
| | |
| --- | --- |
| 74.07% | Are satisfied with their current job. |
| 88.89% | Said things are generally going well. |
| 44.44% | Are still in the field they majored in in college. |
Reputation & Preparedness
| | |
| --- | --- |
| Help from Reputation | 6.6 |
| Preparedness for Real world | 7.5 |
Most Frequently mentioned Graduate Jobs

Analyst (10), Research (7), Assistant (6), Attorney (5), Associate (3),
% went on to Graduate or Professional Ed.
48.1%
"
... The small campus and student body make it difficult to get a sense of the real world when most everyone here is the same ...
Read full comment
"
... Oh, and there is a fascist campus police presence too, complete with a individual-rights-suppressing college kangaroo court judicial system (that...
Read full comment
"
... I don't work in my orignal area of study now, but the liberal education I got at Hamilton has helped me adapt to a changing employment market .....
Read full comment
"
... Was a complete waste of a college career - major mistake on my part ...
Read full comment
"
... The atmosphere here is so nurturing that when I went to the career center I felt like i was in my college counselors office again - after visitin...
Read full comment
"
... Hamilton will teach you to write correctly, speak persuasively, and think critically--three skills that will serve you well in whatever care...
Read full comment
"
... Although I enjoyed many of my classes, I look foward to meeting a more diverse set of people when I enter the real world ...
Read full comment