Hawaii Pacific University
15 Alums took the salary survey
HPU Alumni Salary over Time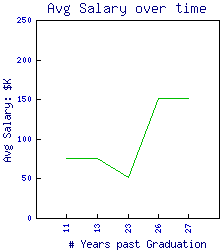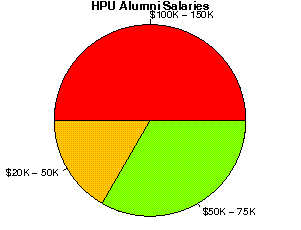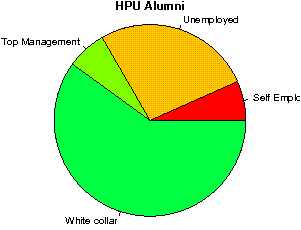 Said that HPU contributed
| | |
| --- | --- |
| 13.33% | 75-100% to their career success |
| 6.67% | 50-75% to their career success |
| 20.00% | 25-50% to their career success |
| 60.00% | 0-25% to their career success |
Had the employment status
| | |
| --- | --- |
| 6.67% | Self Employed |
| 6.67% | Top Management |
| 60.00% | White Collar workers |
| 0.00% | Pink Collar workers |
| 0.00% | Blue Collar workers |
| 0.00% | Entry Level employees |
| 26.67% | Unemployed. |
Life Satisfaction
| | |
| --- | --- |
| 60.00% | Are satisfied with their current job. |
| 66.67% | Said things are generally going well. |
| 40.00% | Are still in the field they majored in in college. |
Reputation & Preparedness
| | |
| --- | --- |
| Help from Reputation | 2.8 |
| Preparedness for Real world | 5 |
Most Frequently mentioned Graduate Jobs

Of (4), Product (2), Development (2), Programmer (2), Director (2),
% went on to Graduate or Professional Ed.
30%
"
... I got to learn and work with a lot of different people, which will be helpful out in the "real world" with all of its various opinions on issues...
Read full comment
"
... What's good about being at HPU is that a lot of the professors here actually have worked in the real world ...
Read full comment
"
... Health Sciences is REALLY broad, but you have to do more schooling if you want a legitimate and successful career ...
Read full comment
"
... The travel industry places a major role in the economy and learning a little about the industry will help you in your future career endeavors ...
Read full comment
"
... HPU also has a strong reputation with the local Honolulu working community, so much so that it has just opened an Entrepreneurial Center connecti...
Read full comment